There's More to the Story
There's a book that has endured for generations, been shared around the world, and is still the best-selling book of all time. Located at the heart of Washington, DC, Museum of the Bible's 430,000-square-foot building preserves an abundance of rare and fascinating artifacts. We invite all people to experience 4,000 years of history shaped by the Bible through innovative and interactive exhibits. Here, there's always more to discover.
Ticket Information
Opening Hours
The museum is currently open seven days a week. If you have any questions, please contact Customer Service at (866) 430-MOTB or customerservice@mBible.org.
Regular Schedule
Daily
10:00 a.m. – 5:00 p.m.
Members and Groups Receive Early Entry
9:00 a.m. – 10:00 p.m.
Please note that early entry is not available on Sundays.
Subject to change seasonally. Excludes evening events or programs supporting and approved by Museum of the Bible.
Please contact Customer Service with any questions at (866) 430-MOTB or customerservice@mBible.org.
Want More Time at the Museum?
Did you know you can purchase a discounted second-day ticket up to 10 days after your visit? Present your ticket at Ticketing or call Customer Service to take advantage of this offer.
Holidays
Closed Thanksgiving, Christmas, and New Year's Day
Closes at 4:00 p.m. Christmas Eve
Admission
Adult
Online: $19.99 | Walk-Up: $24.99
––––––
Seniors, Military,
First Responders, and Students
Online: $19.99 | Walk-Up: $19.99 with ID
––––––
Youth (Ages 5–17)
Online: $13.99 | Walk-Up: $14.99
––––––
Child (Ages 4 and under)
Online: Free | Walk-Up: Free
––––––
Member
Online: Free | Walk-Up: Free
Six floors of amazing. It was the best museum I have ever been through.
BRITTANY W. / GOOGLE
LIMITED TIME EVENT
See Your Imagination Come to Life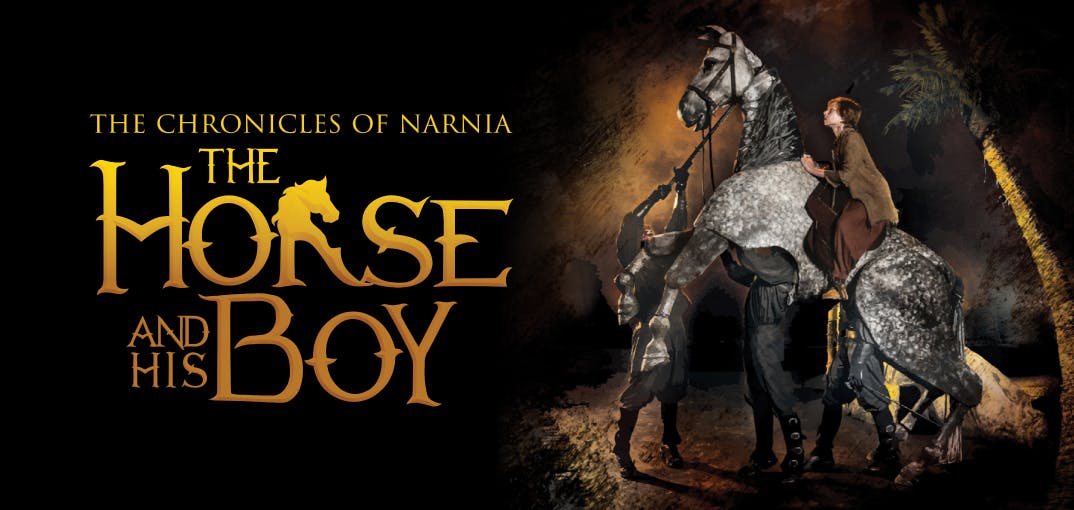 On Floor 5, the World Stage Theater features captivating performances that inspire people of all ages.
Back by popular demand, The Horse and His Boy is live onstage from June 23–August 6. Get your tickets now to see C. S. Lewis's beloved classic in a stunning performance by the Logos Theatre featuring epic puppetry, beautiful sets and costumes, and truly magnificent storytelling.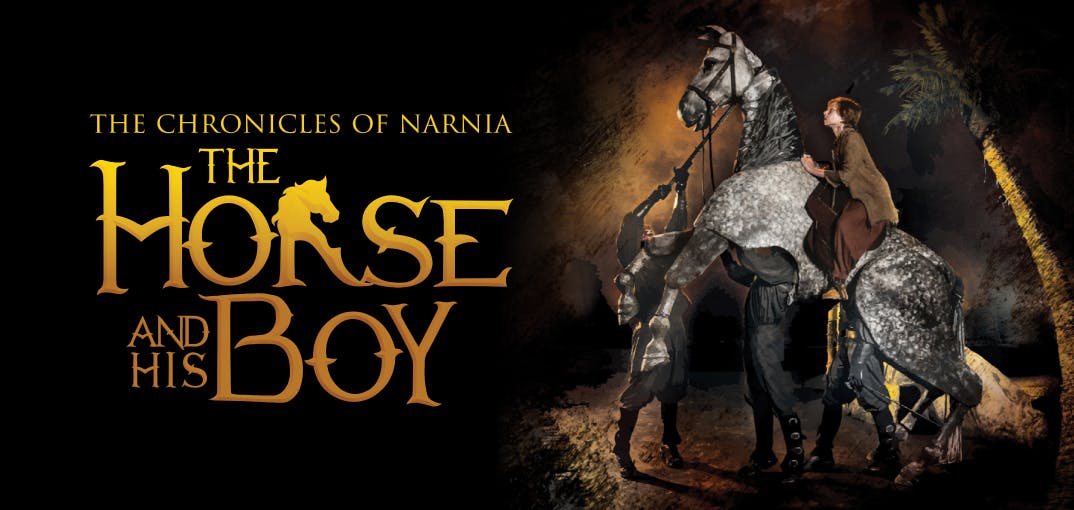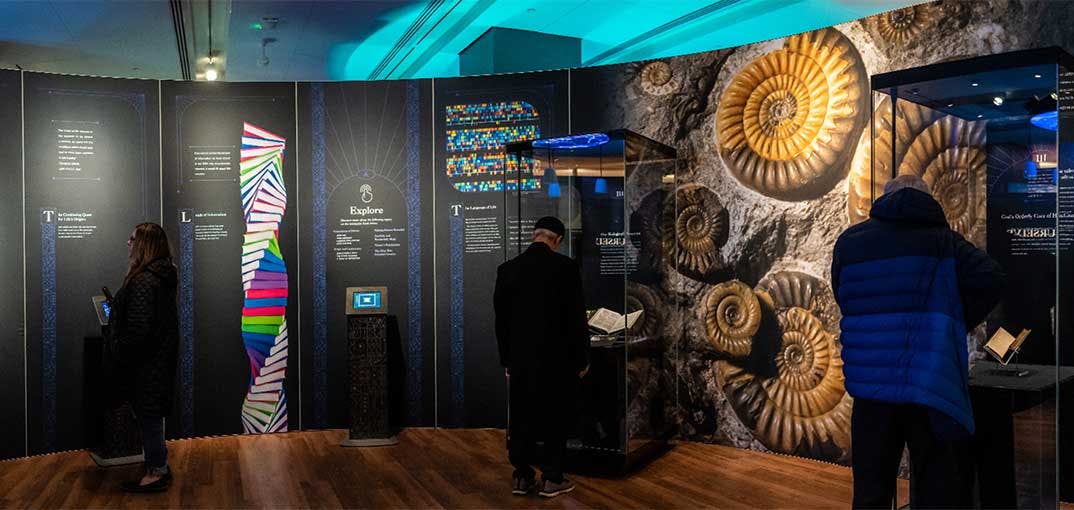 CURRENT EXHIBIT
Engage with Life's Big Questions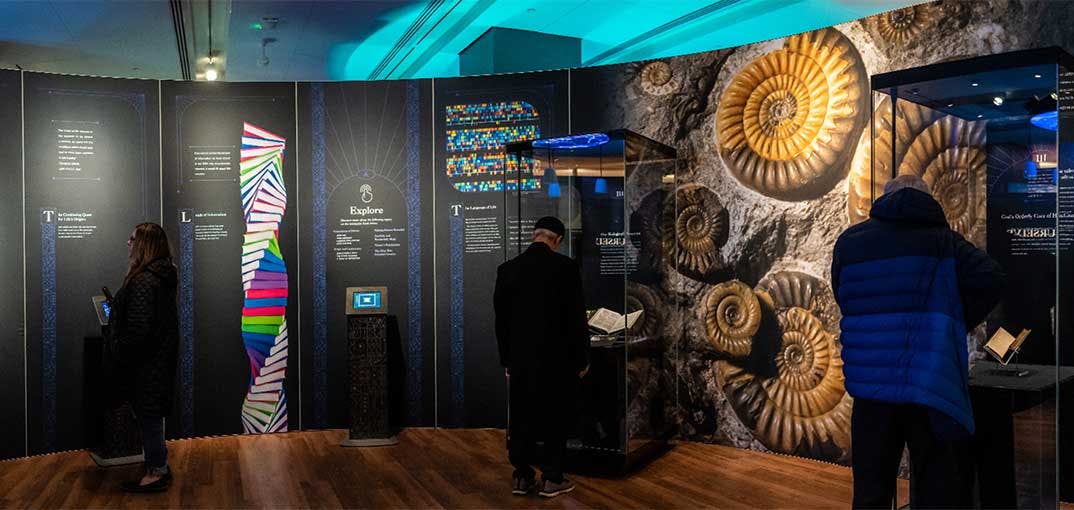 On Floor B1, dive into the Bible's role in the historical relationship between science and religion. See the two in conversation as you look at some of our greatest scientific and theological minds ask six of life's biggest questions, including "How did life begin?" and "What makes me human?"
Running now through January 2024, you aren't going to want to miss your opportunity to see this exhibit!
PERMANENT EXHIBIT
Discover the Extraordinary Impact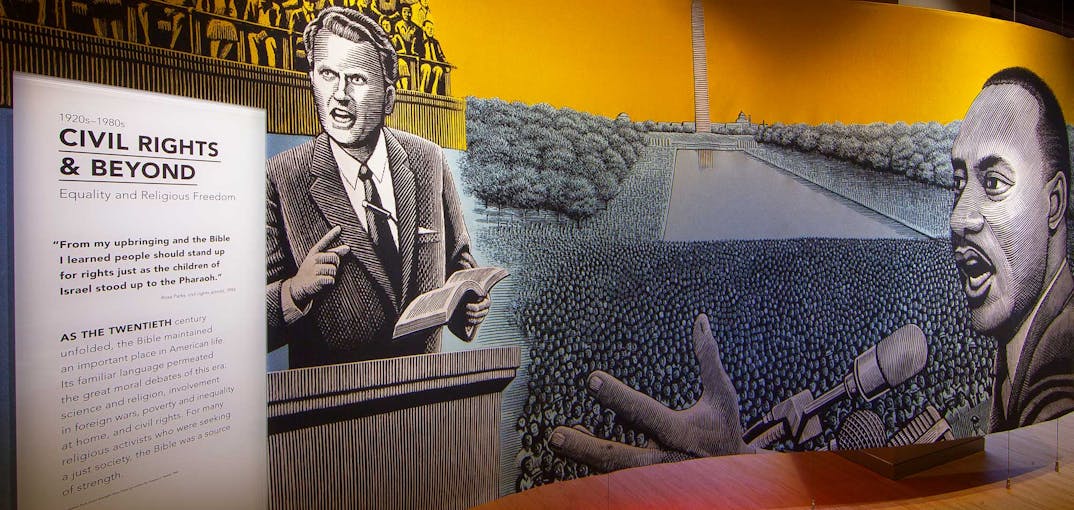 On Floor 2, explore the widespread impact of the Bible on fashion, music, movies, and culture worldwide. Uncover the unexpected influence of the Bible in the foundations of American government and culture in our Bible in America exhibit. In Washington Revelations, discover the Bible's influence in landmarks around Washington, DC, through a thrilling experience that combines storytelling with special effects to simulate flight.
Bible Now displays streaming information coming live from the web, people, places and organizations for a unique perspective of the Bible in our world on every visit.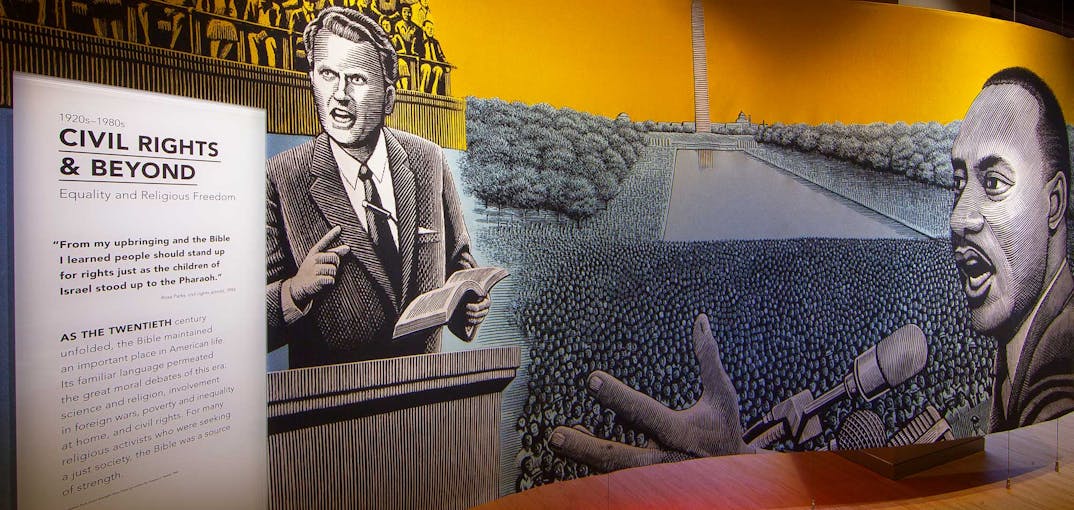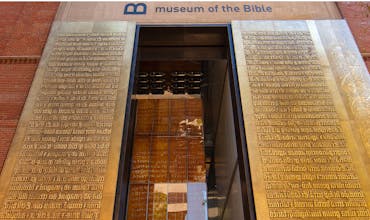 Enter Museum of the Bible, welcomed by the Gutenberg Gates. These one-of-a-kind, 40-foot-high brass gates contain the first lines from Genesis in Latin from a Gutenberg Bible.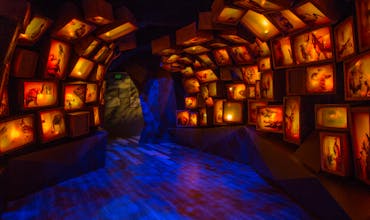 Immerse yourself in the story of the Hebrew Bible through a journey of dramatic displays.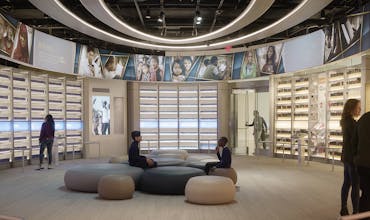 At the intersection of technology and history's best-selling book is illumiNations, featuring the Bible in over 2,000 different languages and counting.