Museum of the Bible's World Stage Theater provides a unique and immersive venue to enjoy movies, shows, performances, and more. Inspired by the tabernacle, the theater walls are curved in design, evoking a tent flapping in the wind. The World Stage Theater is the perfect place to engage with the Bible in a whole new way. Check out our upcoming shows and events below.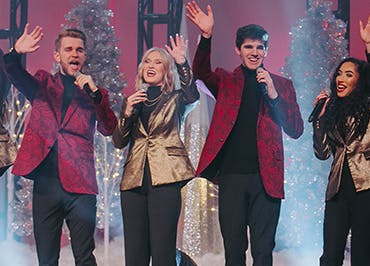 A Cappella Christmas—An Evening with Voices of Lee
Date Coming Soon
Join us for an a cappella experience this Christmas with the Voices of Lee, a 14-member ensemble from Lee University. Characterized by their high-energy arrangements, this internationally acclaimed group will captivate you with this heart-warming concert. Tickets coming soon.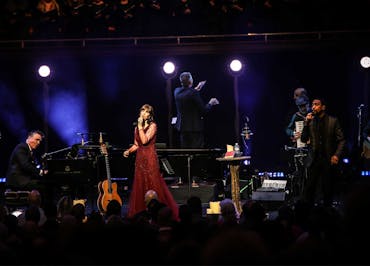 December 11–13, 2023
Sing along with Keith & Kristyn Getty and special guests in an evening concert that unites tradition and innovation in a vibrant celebration of the season!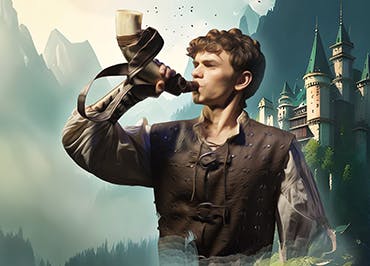 Prince Caspian
March 1–April 27, 2024
Get your tickets now for Prince Caspian, the second part of the story in The Chronicles of Narnia. Follow the Pevensie children as they return to Narnia and fight against a new tyrant. Never performed live onstage to this magnitude, Prince Caspian will thrill audiences of all ages.
Museum of the Bible uses a digital 3D-mapping technique to transform the theater into an immersive experience that brings the audience into the production unfolding around them. Using 17 high-output projectors and angle-compensating software, digital images are seamlessly woven together over varied surfaces to create a coherent environment—scene, landscape, or background—for guests.
The 8,000-square-foot hall with 30 rows and 472 seats features an oak stage measuring 50 feet wide and 20 feet deep with a 60-foot red velvet curtain. Its amphitheater-style layout improves the visual and acoustic experience for guests taking in a variety of productions, including live performances, lectures, presentations, Bible readings, and musicals.
The theater features the latest in audio, visual, and lighting systems, including Meyer Audio's Constellation sound system that allows for electronically variable room acoustics, Yamaha digital mixing console, 21 motorized line sets, theatrical lighting system with grandMA2 ultra-light console, wired and wireless production intercom for ease with presentations and live productions.