Museum of the Bible is committed to providing our guests with a museum experience that is accessible for all ages and abilities.
Access to Museum Parking
Parking can be limited in Washington, DC, so we suggest taking the Metro and exiting at the Federal Center SW Metro Station (see the "M" on the map below). Visit the Metro Accessibility page for more information.
If you need parking, we recommend booking convenient and affordable parking in advance through SpotHero, the nation's leading parking reservation app. To reserve your parking spot, visit the Museum of the Bible SpotHero Parking Page and book a spot with rates up to 50% off drive-up.
New to SpotHero? Download the SpotHero app.
Accessible Drop-Off
Museum of the Bible's wheelchair accessible drop-off point is on 4th St. SW, at the main entrance of the museum (see the wheelchair symbol on the map).
Look for the brass Gutenberg Gates on the west end of the building. The museum entrance is accessible to persons using wheeled devices or for those who prefer not using stairs.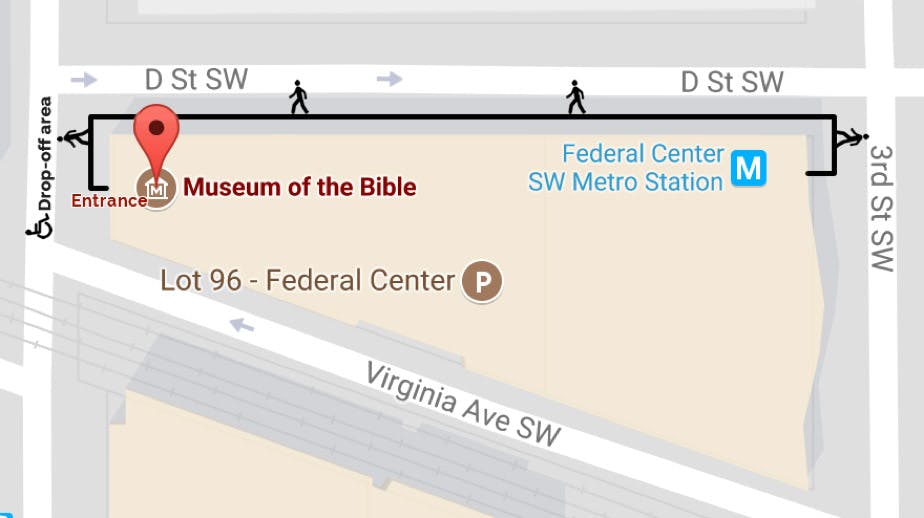 Getting around the Museum
Museum of the Bible is committed to providing a quality experience for all visitors. The ADA compliant services offered cover visitors who are deaf or hard of hearing, have mobility impairments, or are blind or have low vision.
Elevators
There are four elevators near the Grand Staircase that provide access to each floor.
Wheelchairs
Wheelchairs for our guests are available on a first-come, first-served basis. All are free at the Coat Check on Level 1. Guests are requested to leave a photo ID while using any of these items. We regret that we are not able to take advance or phone reservations.
Service Animals
Trained service animals are welcome at Museum of the Bible. All service animals must remain on a leash or be harnessed at all times. Please note that museum staff and security officers are not permitted to handle service animals.
Museum Exhibitions and Attractions
Museum of the Bible's exhibits, restaurants, attractions, and retail spaces are fully wheelchair accessible. There is also minimal seating available throughout the floors and galleries.
Open captioning is available on most video presentations throughout the museum. Scripts are available upon request for the Hebrew Bible Experience and the New Testament Theater on The Stories of the Bible Floor.
ASL Tours
We are pleased to offer the one-hour Museum of the Bible Highlights tour for guests who use American Sign Language.

Requests for ASL interpreters must be made at least seven business days in advance. Tours are on a first-come, first-served basis, with admission to the museum and a ticket for one of the Museum of the Bible Highlights tours. To make a request for an ASL interpreter for a one-hour museum tour, please email us from the Contact Us page or call (866) 430-MOTB.
Museum Map
Before you visit, download this printable Museum of the Bible map!