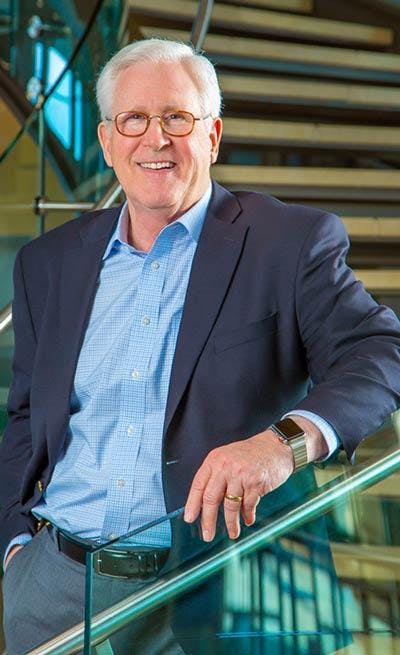 Chief Executive Officer
Harry Hargrave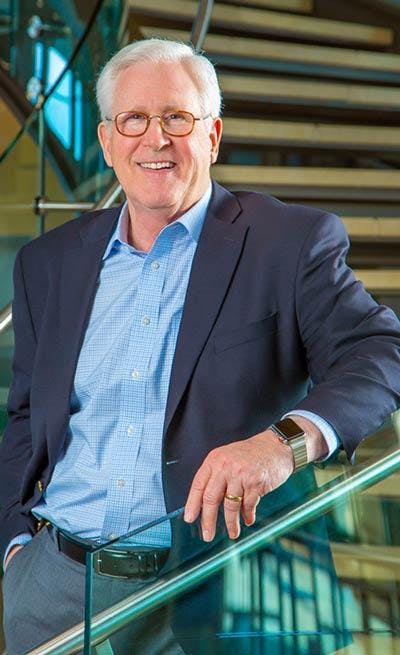 Harry Hargrave serves as the Chief Executive Officer for Museum of the Bible. He joined the museum in November 2019 and oversees the executive team and over 300 museum employees. Hargrave provides strategic leadership to the museum, directing all functions related to the museum's mission to invite all people to engage with the transformative power of the Bible.
Harry has spent over 45 years in finance, marketing, and business operations. Prior to joining Museum of the Bible, he owned HMH Capital Group, where he served as trustee for thirteen family trusts and chairman of the board of The Royal Gorge & Park. He also served as the Owners Representative for the development of the Museum of the Bible. In that capacity, he found the site, obtained DC approvals and oversaw the planning and development process.
Harry is the chairman of the Miracle of Nazareth International Foundation and is chairman of the Christian Workers Foundation. He is a founding elder of Park Cities Presbyterian Church in Dallas. A native of Austin, Texas, he earned his bachelor's and master's degrees at Southern Methodist University in Dallas, Texas.
He and his wife, Gayle, have been married for 47 years. They have two sons, one daughter, and seven grandchildren.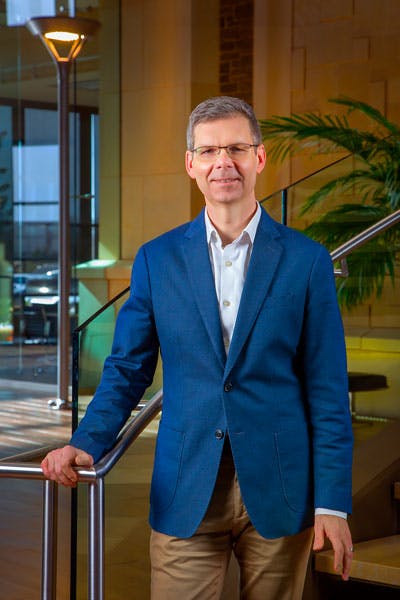 Chief Curatorial Officer
Jeffrey Kloha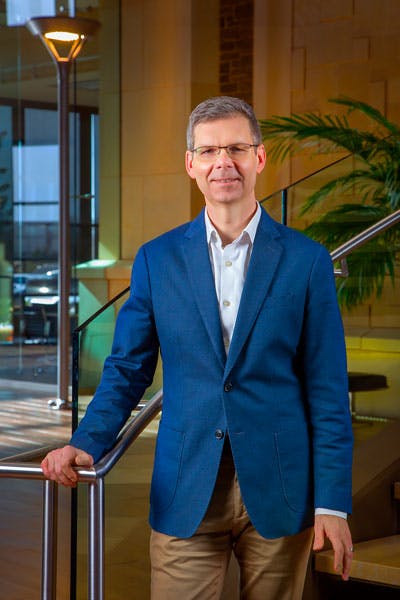 Jeffrey Kloha joined Museum of the Bible in summer 2017. He manages the Museum of the Bible Education, Scholars Initiative, Exhibits, Curatorial, and Collections departments and is responsible for executing those departments' strategic plans, along with managing other professionals.
Jeff previously served 18 years as professor of New Testament at Concordia Seminary in St. Louis, and also served Concordia as provost/chief academic officer. During that time, he oversaw two accreditation processes, transitioned the institution from quarters to semesters, steered the development of new curricula and managed strategic planning for the institution. He earned the PhD from the University of Leeds.
His areas of teaching and research include the textual and canonical history of the early Christian writings, hermeneutics, and the Pauline Epistles. Jeff is co-editor of Texts and Traditions: Essays in Honour of J. K. Elliott (Brill, 2014) and The Press of the Text: Biblical Studies in Honor of James W. Voelz (Pickwick, 2017). He has published peer-reviewed essays in the areas of New Testament textual criticism and the use of New Testament texts in early Christianity. He is a frequent conference presenter, radio guest, and television documentary commentator.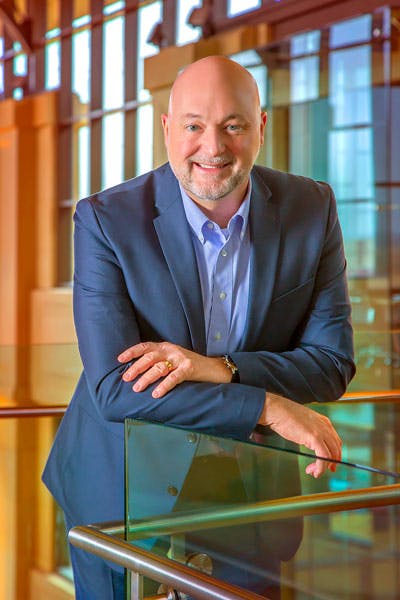 Chief Administrative Officer
Dave Suey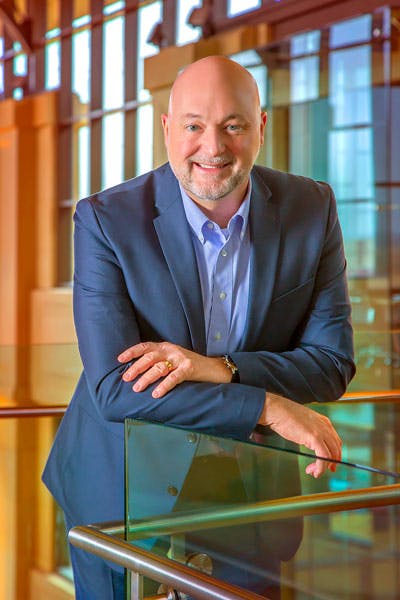 Dave Suey is the Chief Administrative Officer for Museum of the Bible, where he oversees the HR, IT and Finance departments. He most recently served as the Director of Pharmacy and Retail Operations for Walgreens.
In his 32-year career at Walgreens, Dave worked his way from Assistant Manager to Director of Pharmacy and Retail Operations. In his most recent position, he was responsible for up to 82 stores in Oklahoma City, western Oklahoma, and Amarillo, TX, and for two years in Wichita, and western Kansas. He managed business performance and talent development, and was responsible for full box ownership of both front-end sales and the pharmacy. Dave helped people develop professionally and managed a pipeline for future leaders. He has a passion for leading, building relationships, business, and achieving results.
Born and raised in St. Louis, Missouri, Dave attended Southwest Missouri State University (now Missouri State University) and graduated with a bachelor's degree in marketing. He and his wife, Laura, have been married 33 years and have three children: David, Morgan and Luke, and two grandchildren.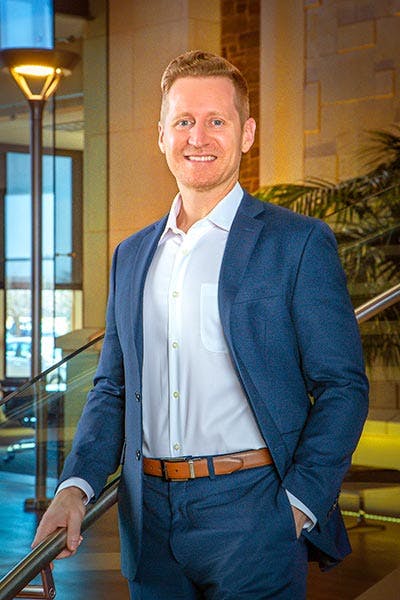 Chief Revenue Officer
Garrett Hinton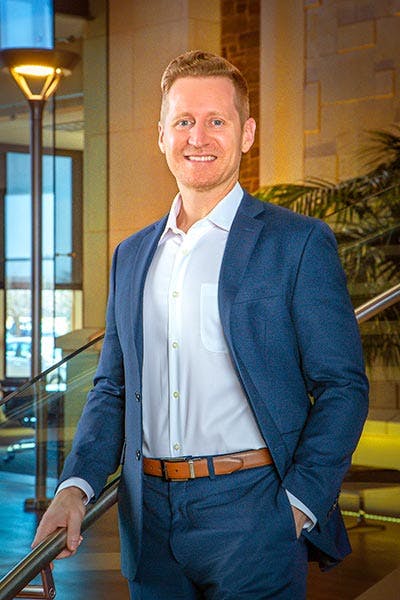 Garrett Hinton serves as the Chief Revenue Officer at Museum of the Bible. He joined the museum in 2021 and oversees Group, Education, Event and Membership Sales, as well as Retail, Guest Relations, Customer Service, and the Museum of the Bible Travel Brand. Garrett brings a heart for business management, sales, and strategy to the museum with more than 15 years of experience. His diverse background in a wide variety of fields inspires his leadership style and allows him to tackle complex problems with complete and executable clarity. His previous work experience includes machining, manufacturing, and fabrication for theme parks and tourist attractions, as well product creation management and selling in the global tourism field.
Garrett was also the executive producer for the most awarded production studio on Florida's Space Coast from 2014 to 2017 and has worked with some of the world's leading church ministries, assisting in their travel to the Holy Land and beyond.
Garrett was born and raised on the intercoastal waterways of Brevard County, Florida. After playing college baseball, he earned his BSM from the University of Phoenix while working full time as the general manager and business development lead for one of the top machining and manufacturing consultants in the Southeast.
Museum of the Bible Board of Directors
Steve Green, President of Hobby Lobby Stores, Inc. & Chairman of the Board
Steve Green became president of Hobby Lobby in 2004 and helped to grow the family business to close to 1,000 stores in 48 states, employing over 45,000 people with over $7.7 billion in annual sales in 2022. He speaks on business and philanthropy, focusing on how his faith intersects with his life endeavors.
As chairman of the board of Museum of the Bible, Steve has assembled a team of academics, designers, technology professionals, and other experts to create the 430,000-square-foot museum dedicated to a scholarly and engaging presentation of the Bible's impact, history, and narrative. The museum opened in November 2017 in Washington, DC, near the US Capitol and saw approximately one million visitors during its first year.
Green is the author of Faith in America (2011), The Bible in America (2013), and This Beautiful Book (2019), and co-author of This Dangerous Book (2017) with his wife, Jackie.
Steve and Jackie have been married 39 years and reside in Oklahoma City. They have a son, five daughters, a daughter-in-law, three sons-in-law, and eight grandchildren. They are active in their local church and support many Christian charities.
Dr. Dale Carnegie Bronner
Bishop Dr. Dale Carnegie Bronner is the fourth of six sons of the late Nathaniel Hawthorne Bronner Sr. and Robbie Bronner. He graduated Morehouse College, finishing as the top student in the field of religion, before earning his doctor of ministry degree from Christian Life School of Theology.
Dale serves on the board of directors and is part owner of Bronner Brothers Manufacturing Company, a multi-million dollar family-owned corporation in the hair care business for more than 70 years. He has a passion to develop leadership and motivate people for success on the next level and is a practical strategist with proven techniques of problem solving and conflict resolution. He is chairman of the board for the Christian Men's Network and serves on the board of directors for Dr. John Maxwell's global leadership organization, EQUIP.
Dale is the founder and senior pastor of Word of Faith Family Worship Cathedral, an interdenominational ministry founded in 1991 and thriving with more than 22,000 members. He is the author of the books, Get A Grip, Guard Your Gates, A Check Up From the Neck Up, Home Remedies, Treasure Your Silent Years, Planning Your Succession, Change Your Trajectory, Power Principles, and a contributing writer for the books, Man Power and Failure: The Womb of Success.
Dale resides in Atlanta with his wife, Nina. He is the father of four daughters and a son, and grandfather of six. He lives by the adage that "no amount of success can compensate for failure at home."
Dr. Carlos Campo
Dr. Carlos Campo is the president at Ashland University in Ohio, where he began serving in June 2015. He also serves as the chair of the Hispanic Education Alliance of the National Hispanic Christian Leadership Conference. Carlos is a four-time recipient of Who's Who Among American Teachers and is also a frequent contributor to a number of national publications.
Carlos received his PhD in English, with an emphasis in drama, from UNLV, where he was recently (2016) awarded the Liberal Arts Alumnus of the Year, the highest and most prestigious alumni award given by the college.
Barry H. Corey
Barry H. Corey is the eighth president of Biola University. Since assuming the role in 2007, Barry has led Biola into its second century with an ambitious 10‐year university plan, completing the largest fundraising campaign in its history by exceeding its $180 million goal. By creating four new academic schools and embarking on a major university transformation journey, Biola is positioned to flourish for decades to come. He has done this while honoring the mission of the university and its unique contribution to the landscape of higher education. A native of New England, Barry served as dean of the faculty and vice president for education at Gordon‐Conwell Theological Seminary as well as its vice president for development. He received his BA in English and biblical studies from Evangel University and his MA in American studies and PhD in education from Boston College. As a Fulbright scholar, Barry lived in Bangladesh, where he researched educational programs for children of the landless poor. He is the author of the books, Make the Most of It: A Guide to Loving Your College Years (Tyndale, 2020) and Love Kindness: Discover the Power of a Forgotten Christian Virtue (Tyndale, 2016), and his writing has been featured in The Washington Post, the National Review, Relevant ,and Converge, among others. He currently serves or has served on the governing boards of Gordon-Conwell Theological Seminary, the Association of Independent California Colleges and Universities, Christianbook International Outreach, and the Council for Christian Colleges and Universities. He and his wife, Paula, have three children: Anders—who is married to Ashley—Ella, and Samuel.
Harry Lee Crisp III
Harry Lee Crisp III, or Lee as he is commonly referred to, is currently director and owner of Pepsi MidAmerica, and director and owner of Crisp Container Corporation. In addition to running one of the largest Pepsi franchises in the nation, Crisp has served in a number of leadership and philanthropic roles, including principal benefactor of the Mayo Clinic, founding member of the Smithsonian Council for American History, a patron of the arts at the Vatican Museum, and chairman of the board for the Independent Bottlers Association.
Crisp, who has been awarded 44 patents, also recently served as a founder, director, and treasurer of the Marine Corps Heritage Foundation, where he oversaw the National Museum of Marine Corps in Quantico, Virginia.
Bobby Gruenewald
Bobby Gruenewald is passionate about exploring new ideas and finding practical ways to leverage them for the global church. He serves as pastor and innovation leader at Life.Church, a multi‐site church based in Oklahoma. Meeting in multiple locations and globally online, the church is devoted to helping people around the world become fully devoted followers of Christ. Bobby is also the founder of the YouVersion Bible App, which has been installed on more than 300 million devices.
Working with Senior Pastor Craig Groeschel, Bobby has helped shape Life.Church's missional approach to technology, reaching people in every country in the world through initiatives like Church Online, the YouVersion Bible App, and the Bible App for Kids. Rooted in a strong belief that churches can accomplish more working together, Life.Church has created a suite of free tools for church leaders, including open resources, an online library of sermons, ministry resources, and ideas.
Bobby is one of the leading voices in the church on innovation and the use of technology to reach people for Christ. He frequently writes and speaks on the topic and was named to Fast Company's list of the Most Creative People in Business. Prior to joining the Life.Church team in 2001, he started and sold two technology companies and served in advisory capacities for various startups and venture capital funds. His focus now is completely on Life.Church, YouVersion, and the incredible things God is doing in the lives of people each day. Gruenewald and his wife, Melissa, live in Edmond, Oklahoma, with their four children.
Allon Lefever
Allon Lefever is an entrepreneur and business management expert with 40 years of experience in the agricultural, industrial, and digital industries. He has helped found more than 20 companies and is an advocate for family-owned businesses.
Allon recently served as a business professor and director of the MBA program at Eastern Mennonite University. He and his wife reside in Lancaster, Pennsylvania.
Roy Morgan
Roy Morgan is president and owner of Premier Productions, the largest promoter and producer of live Christian events in the United States. Roy began his career as a student at Liberty University in Lynchburg, VA, and promoted his first independent concert in 1980 at 21. As a talent agent, artist manager, and concert promoter, Roy and his partners have seen more than 23 million people attend thousands of their concerts over the last 39 years.
In addition to national touring, Premier produces more than 10 annual Christian Music Festivals, and over 90,000 people have attended their Christian Cruises and Israel Trips through their sister company, Premier Vacations & Events. Their mission statement is "turning moments into memories," and their goal is to impact the Kingdom and see thousands of people come to Christ through the unique experiences for those who attend a Premier event. The Premier Foundation is the non-profit arm of the PREMIER Companies and was recently selected as a 2019 Honorary Inductee at the Gospel Music Hall of Fame Ceremony.
Roy is married to his wife Kathy, and they have three grown children, two daughters-in-law, and six grandchildren. Roy and Kathy live in Lexington, NC, where they have established and operate a non-profit ministry called Project 58. He serves as a vice-president on the board of directors for the Gospel Music Association and is a former board member on the Hands & Feet Project, an organization that provides orphan care to children in Haiti.
Lisa Robertson
Lisa Nelson Robertson is a noted author and teacher who has led women's Bible studies for more than 30 years. Following a successful advertising sales career in Boston at Playbill and then WXNE-TV, she and her husband, Tim, moved to Virginia Beach, VA, where she devoted herself to raising five children.
An active leaders in women's ministries, Lisa co-founded Changing Seasons, a women's outreach that presents the Christian faith in non-traditional ways to help women discover or rediscover their faith. She is also an advocate for early childhood education, serving as a founding board member of E-3, Elevate Early Education, a statewide initiative in Virginia promoting school readiness for children under 5. As part of E-3's predecessor organization, Smart Beginnings, Lisa developed Faithful Beginnings, which links faith foundations with school readiness milestones. She pioneered the implementation of Faithful Beginnings in low-income housing projects and was appointed by Virginia's Governor in 2012 to serve on the Virginia State Board of Child Abuse and Neglect. Faithful Beginnings is now an integral part of the curriculum offered on FamilyApp, the first fully encrypted peer-to-peer messaging tool designed for mobile family communication.
Lisa serves on the Proverbs 31 board with Lysa Terkeurst and was a founding board member of the North American branch of Alpha, an outreach developed by Nicky Gumbel and the team at Holy Trinity Brompton. She and her husband, Tim, have been group leaders in both Alpha and its related outreach, The Marriage Course.
The Path of Life is Lisa's first book and was released in May 2019. Additionally, she has authored a series of Bible study guides and has successfully published Advent—Making Christmas About Christ, which is an annual feature on The 700 Club.
Lisa earned a BA from Sweet Briar College and continues to live in Virginia with her husband, Tim. Her five children are now grown, and she enjoys life with her growing group of grandchildren.
Marcia Taylor
Marcia Taylor is president and chief executive officer of Bennett International Group, which she acquired with her late husband, J. D. Garrison, in 1974. For 42 years, Marcia has overseen the company's strategic growth into an international transportation management and supply chain solutions leader with nine primary business lines. Through its affiliated companies, Bennett provides commercial vehicle transport, manufactured housing transport, heavy-haul and specialized freight transportation, logistics, warehousing and distribution services, international freight forwarding, crane, heavy rigging and specialized lifting services, and portable building manufacturing. In addition to her work at Bennett, Marcia currently serves on several boards, including at Children's Healthcare of Atlanta, the United Community Bank Advisory Board, the Council of National Policy, the National Museum of Wildlife Art, and St. John's Hospital.
Marcia has received numerous recognitions for her professional and civic accomplishments. In 2017, she received the 2016 Horatio Alger Award for Distinguished Americans, and in 2016, she received an honorary doctorate of commerce from Clayton State University. Other awards include the NDTA National Transportation winner, Entrepreneur of the Year (Venture Magazine), Industry of the Year (Henry County Chamber of Commerce), and eight consecutive #1 rankings on the Atlanta Business Chronicle's annual Top 25 Women-Owned Business List. In 2014, Marcia was named The Most Influential Woman in Trucking by Women in Trucking and Navistar.
Marcia is also CEO of the Taylor Family Foundation, a private family foundation established in 2012, which donates a percentage of profits to nonprofit organizations giving to those in need in communities nationwide.
Marcia is married to Michael K. Taylor. She has three grown children and many grandchildren and great-grandchildren.
Dick K. P. Yue
Dick K. P. Yue has been a faculty member in the MIT School of Engineering since 1983. He is the Philip J. Solondz Professor of Engineering, Professor of Mechanical and Ocean Engineering, and Head of the Ocean Science & Engineering Area in the Department of Mechanical Engineering. Professor Yue received all his degrees (SB, SM, and ScD) from MIT. He is active in research and teaching and is internationally recognized for his expertise and extensive work in ocean fluid mechanics and wave hydrodynamics. He has authored or co-authored some three hundred papers and a two-volume textbook on theory and applications of ocean wave hydrodynamics. Professor Yue is a member of the National Academy of Engineering.

Professor Yue served as the MIT Associate Dean of Engineering from 1999–2007. He was the originator of MIT OpenCourseWare (OCW). MIT OCW has since transformed the global higher education landscape, been translated into many major languages, and accessed by a quarter of a billion educators and learners worldwide. In 2008, Professor Yue received MIT's prestigious Gordon Y. Billard Award for services of outstanding merit to MIT.
Dick and his wife Eva celebrated their 30th wedding anniversary in 2019. They have four adult children: Kevin, Teresa, Emily, and Brian.