February 26–July 31, 2022
Located on Floor 5
FREE with Admission
"One of the most perplexing enigmas of modern times."
— National Geographic Magazine (June 1980)
"We can conclude for now that the Shroud image is that of a real human form of a scourged, crucified man. It is not the product of an artist."
Shroud of Turin Research Project Final Report, 1981
About the Shroud of Turin
Few artifacts in the world have stirred the imagination, provoked controversy, raised hypotheses—and for some, fortified faith—as has the Shroud of Turin. The Shroud resides in the Cathedral of St. John the Baptist in Turin, Italy, as it has for over four centuries. It bears a faint, yellowed image of a naked, crucified man and is believed by millions of Christians to be the burial cloth of Jesus of Nazareth.
Mystery and Faith: The Shroud of Turin Exhibit
Museum of the Bible is excited to present a groundbreaking, high-tech, innovative exhibition about the Shroud of Turin! Over the course of five exhibit sections and eight cutting-edge interactives, guests will learn about how the Shroud mirrors the Gospels, its history, and its impact on millions of people.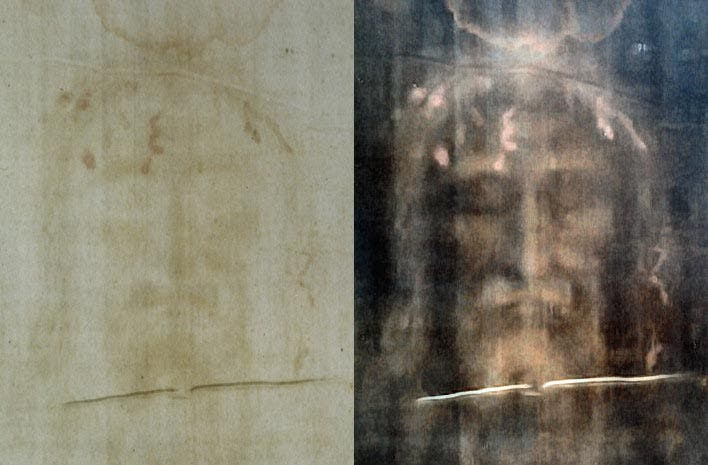 The Shroud's Significance
"The exhibition takes its inspiration from the words of two popes, St. John Paul II and Benedict XVI. In 1998, John Paul II greeted fellow pilgrims who had come to see the Shroud and described it as a "mirror of the Gospel." John Paul II said further that the image on the Shroud invited all to contemplate the nature of human suffering and God's love for humanity."
— Excerpt from an article written by Brian Hyland, Museum of the Bible's Associate Curator of Manuscripts, in Sindon, the online publication of the Museo della Sindone in Turin
Image: Left to right, the face of the Shroud man as seen on the cloth compared to the photographic negative (positive image) discovered by photography in 1898.