From the Podcast: Interview with "Man of God" Director Yelena Popovic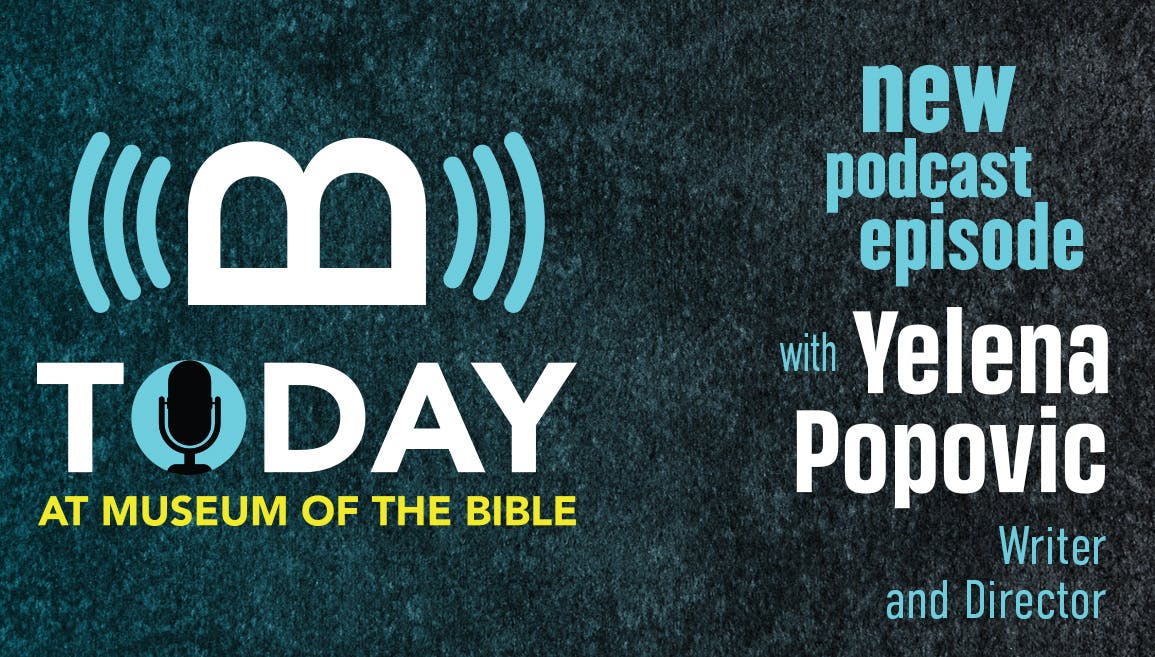 On our podcast, Charlotte Clay, our director of marketing and communications, and Dr. Jeff Kloha, our chief curatorial officer, interviewed Yelena Popovic, writer and director of the award-winning film Man of God, which depicts the trials and sufferings of Saint Nektarios of Aegina. Museum of the Bible hosted a special screening of the film in September 2023.
The following interview has been edited for clarity and space. To get the full interview, listen using the video player above or listen to the episode on our podcast, Today at Museum of the Bible, or on our YouTube channel.
Charlotte: Today we are joined by a very special guest, writer and director Yelena Popovic. Yelena is the creator of the film Man of God.
Yelena: Thank you so much for having me. It's really my honor to be here.
Jeff: How did you get interested in the story to the point of making a film about it?
Yelena: Faith was something that always was important to me. When I left Yugoslavia, it was right around the time when the war broke out there. I remember going to church to do a prayer and ask God to protect me as I was going in search of a better life. Then, in 2000, I decided to go to church, so I went to an Orthodox church in Los Angeles. It was then, as the sort of beginner at liturgical life at this point, I started to read books about saints. I really enjoyed reading stories about the saints because they're probably [the] best examples of how to live Christian lives because these are men and women who have really sacrificed everything for God and our Lord Jesus Christ.
But even though these stories inspired me, I never thought of making a film about a saint. I naturally would gravitate towards stories that inspire people, that give people hope, that give faith to people, because that was important to me. But [a] saint, no.
Jeff: Saints are a church thing, and movies are not; they're different.
Yelena: Yeah. So I never really thought of it, until my father passed away in 2011. I couldn't go to his funeral. I still didn't have my immigration status resolved. A year later, I had my citizenship. I was able to go to visit for [the] one-year memorial in Belgrade.
I went to church on Sunday and saw a book about Saint Nektarios, and I heard his story is quite compelling. I thought, "I will just buy the book, and on my way back to LA, I'm gonna read the book." Reading the story about him, I was so touched by it. It was probably because it was very personal. At the time, the country was predominantly communist, and my dad was not a member of the communist party. He was very honorable, and he refused to do unethical things to further his career. He was one of the leading civil engineers in the country, but he did not want to do certain things other people were doing, and they did not like that. It made them look bad. They brought six false witnesses to testify against him, and he lost his job. He almost became homeless, and therefore, he lived very humbly and very modestly, despite the fact that he could have done well. And he was criticized by his family members for being way too honest. But I was proud of him.
Jeff: That was the link to Nektarios.
Yelena: This link was something I understood on a very personal level and the fact that my faith is very important to me and it was something that kept me alive for all these years. There were a lot of elements in this story I felt I was able to tell, an honest story. So, it was an opportunity for me as a filmmaker, an artist, to express myself. This is why I decided to embark on writing about him and then seeing if it was gonna happen—and it did happen.
This excerpt is from an episode of Today at Museum of the Bible. Listen to the whole interview on Spotify, Google Podcasts, Apple Podcasts, iHeart Radio, YouTube, or wherever you get your podcasts.
Published October 26, 2023
Have weekly museum updates delivered to your inbox.