From the Podcast: The Legacy of Elisabeth Elliot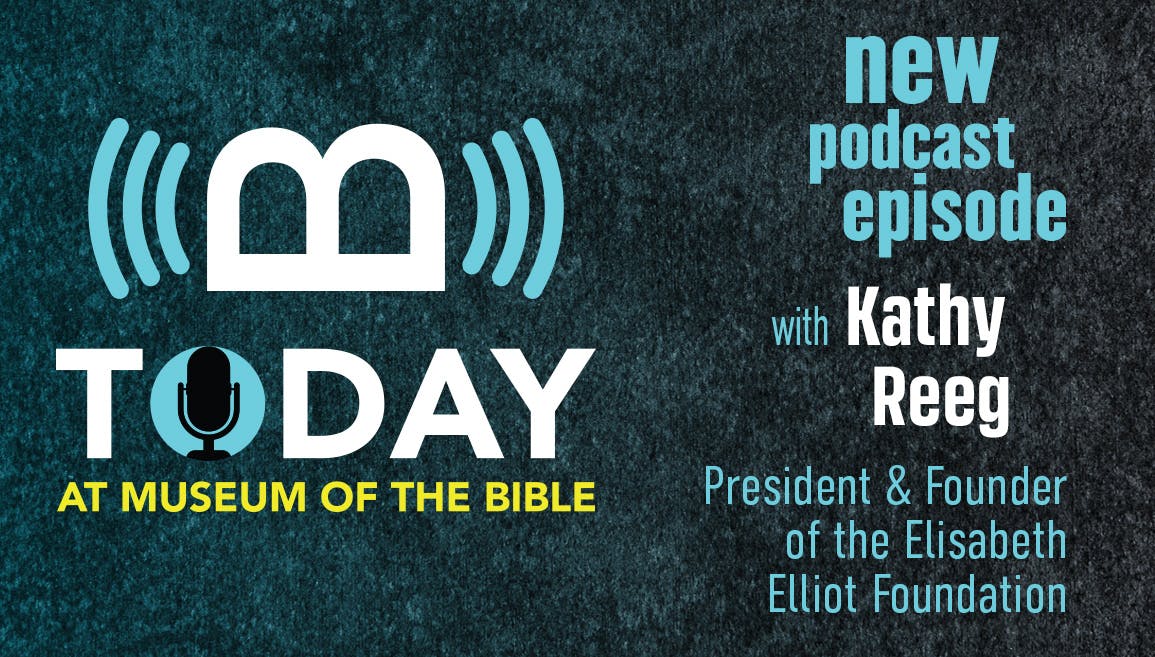 Recently on our podcast, Charlotte Clay, our director of marketing and communications, and Dr. Jeff Kloha, our chief curatorial officer, interviewed Kathy Reeg, president and founder of the Elisabeth Elliot Foundation.
The following interview has been edited for clarity and space. To hear the whole interview, listen to it on our podcast or watch the episode on our YouTube channel.
Charlotte Clay: Today we're here with a very special guest, Kathy Reeg, the president of the Elisabeth Elliot Foundation. I'd love for you to tell us a bit about the story of Elisabeth and Jim Elliot and get our listeners excited to come visit the exhibit at the museum all about Elisabeth Elliot.
Kathy Reeg: It's a delight to be here, thank you for inviting me. Elisabeth Elliot is an incredible woman, an ordinary woman who did pretty extraordinary things for the Lord. She was born in Belgium—her parents were missionaries—returned to the states, grew up, was off at boarding school, and went to Wheaton College and felt led to go in the mission field. Before she left, she met Jim Elliot. There was kind of a love match there, but nothing transpired until she got to Ecuador. And it just so happens they both went to Ecuador. And Jim was kind of on the thread of anyone on the mission field doesn't get married, but he'd already declared his love to Elisabeth. So they continued to correspond. And then when they both got to Ecuador, lo and behold, God gave them the green sign. They got married and they began to serve, and they were in Shandia.
He got involved with other missionaries there, who really had a heart to reach an unreached people, the Waodäni, which they called the "Auca" at that time because [it] meant "savage." They knew they were a savage tribe because there were so many killings, but they wanted to reach out. So they eventually had some contact with them. Five missionaries landed their plane and had this outreach, documented it on camera, on video. It was tremendous to see. But there was miscommunication and the Indians actually thought they were cannibals, so they murdered the five missionaries. Elisabeth stayed in the jungle, as did many of the other missionary wives. Here were these five widows and little children. This was in 1956. Elisabeth had a 10-month-old child, Valerie. She waited a short time, until Valerie was about two, and then she and one of the sisters of the other missionaries, Rachel Saint, went back to the jungle, to this tribe.
Jeff Kloha: It's amazing. They went back to the same tribe where it occurred and went to serve there.
Kathy: Yes, and Dayumæ, who was a member of the tribe, and another woman came out of the tribe because they were fearful for their own lives. So, they came out, and they'd been living with the Quichua and that's where they got to know them. Then they gave the invitation and said, "Come back with us, we want to tell the story." When Dayumæ became a believer in Jesus, she said, "I want my people to hear this story."
Charlotte: Wow. And Elisabeth took her in.
Jeff: And she became very instrumental in learning the language, working on the Bible translation.
Kathy: Yes, Dayumæ did, and Rachel Saint and Elisabeth both. They wanted to share the love of God to them.
Jeff: And then how long did the Bible translation work take?
Kathy: It took a long time. We're all human and we all have personality differences, and she and Rachel Saint were cut from two different molds. I don't know that Rachel was truly a linguist, I don't know that that was her study. Elisabeth was an expert at it, and Dayumæ had been really compromised by living with the Quichua, so Elisabeth felt like the translation of the Waodäni had been compromised by Quichua, and she wanted to be sure that it was pure. Rachel felt like it was okay, so they clashed in that area, and they tried to work it out. But in the end, it wasn't meant to be. Pretty much Rachel Saint gets the credit.
Jeff: Right. Yeah, typically.
Kathy: But Elisabeth, you have here all her notes and the box with every bit of it. So, she really deserves to have some credit there, as does certainly Rachel Saint.
Jeff: Yeah, and Dayumæ; it's a group project. So, the translation, it was the early 70s [when] it was finally completed? And '72 was a New Testament, I think. Long, long project.
Now we have the exhibit, Kathy, because you connected with the family and preserved the items that Elisabeth had kept all these years and eventually those came to the museum, about 800 objects. How did you get connected with Elisabeth and Lars [Elisabeth's second husband] and this foundation work?
Kathy: I met Elisabeth in the early 90s and she was a mentor from afar, just like she has been for thousands and thousands of people. I never met her other than just on stage after she spoke and [I] read her books. And then in early, mid-2000s, I began corresponding with her husband Lars and getting some of her things, and then we just struck up a relationship. They would come to our house and stay, and so from that then developed that relationship.
They had a gorgeous home that Elisabeth had designed, and from every window you could see the ocean. It was an older home and here were all these artifacts. Here was the spear on the baseboard. I mean, it wasn't really displayed, it was just lying there. And going upstairs, here's the blowgun in the corner. The Cornell Capa [photographs] are in this huge leather folder that Cornell had given her with all the originals in there, it was underneath the buffet. And in this case was the headdress and all these different things. So that was 2015. And just like scripture says, "Mary took it and pondered it in her heart." I just did that for several years. And I would talk to Lars about it periodically and say, "There really needs to be a foundation" or "We need to preserve these things." And he was like, "Well, nobody really cares." But eventually I got him to concede. And I got on the phone and called Mart Green. I didn't know the connections with Museum of the Bible and he's like, "Oh, you need to talk to Steve [Green]." So, Steve calls me and he says, "How about Jackie and I fly to Massachusetts?" And so we met in 2018.
Jeff: And connected to museum staff and started trying to figure out what was there and how to get it to the museum.
Kathy: We partnered with you all and Wheaton [College] for the foundation. But in 2020, finally I got the green light from both Valerie and Lars and they said you should do it. And so we put a little website up in June 2020, five years since she had died. Here we are three years later.
Jeff: And so now there's about 800 objects that from her collection that are part of the museum.
Kathy: Yes, it's just important to me that these things be preserved together.
Jeff: What do you think of the exhibit?
Kathy: It is an incredibly moving exhibit. And it's just really the tip of the iceberg. There's so much more, plans and different things. I think the way that they have done it is amazing. I think Elisabeth would be so pleased, and I wish Lars was in a position that he could see it. I have shown him pictures, and he gets really emotional about it. But the exhibit itself tells the story, and for those who are not familiar with her, it really tells the entire story that I think is an inspiration to people.
Jeff: Well, it's an amazing story. Thanks so much for preserving it and continuing to make it known and helping bring it here to Museum of the Bible.
Kathy: Thank you for your partnership and thank you for being willing to take it in and to preserve and protect these artifacts.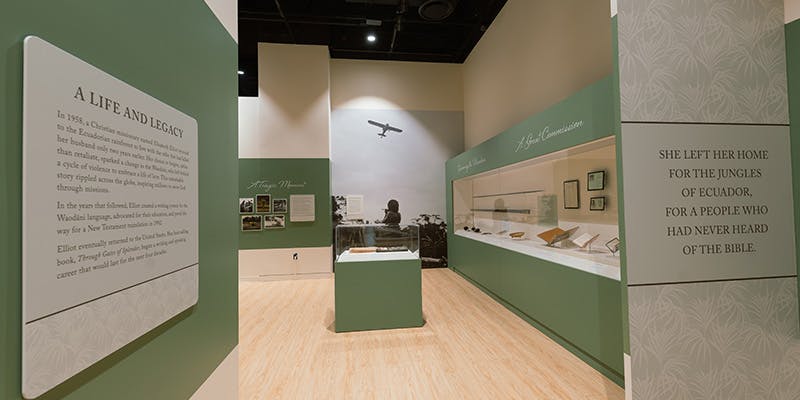 To learn more about Elisabeth Elliot and her work, come see our exhibition, Through Gates of Splendor: The Elisabeth Elliot Story. The exhibit is open until January 28, 2024, and is included with a general admission ticket. You can learn more here.
Have weekly museum updates delivered to your inbox.