A Note from Jackie
2021 Year in Review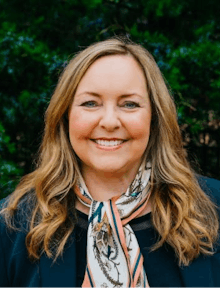 Dear Women of Legacy Friends,
Can you believe 2021 is coming to a close? Though it was still a less-than-normal year, I'm so grateful to have seen so many of you face-to-face at our Women of Legacy Summit and Reunion in September — our first in-person event in two years! What a wonderful time we shared learning, growing, reconnecting, worshipping, and engaging with the Bible in many new ways.
We are also thankful to have made memories and gained inspiration from various events this year, such as the Spring Virtual Event with Karen Kingsbury and Jo Dee Messina, regional events, and our recent GENERATIONS Gala. Speaking of the gala, I would like congratulate Linda Arnold, this year's recipient of the Marie Green Award. You may know the story of Marie Green, Steve's grandmother, who lived a legacy of generosity, service, integrity, compassion, and prayer. Marie Green exhibited the fruits of the Spirit to many throughout her life.
As we are wrapped up in the Christmas season, I hope you find time to slow down and reflect on the reason we celebrate. Christmas is a busy season at the museum, and it is so wonderful to see visitors interacting with our special holiday exhibits! I encourage you to see all the fun ways your family can include Museum of the Bible in your Christmas celebrations here, both virtually and in person. We encourage you to gather with your friends and family and watch our Christmas special, "A Silent Night at Museum of the Bible", featuring for KING & COUNTRY on this website, available December 10-24. Some of you may remember seeing the behind-the-scenes filming at the Women of Legacy Summit and Reunion. You won't want to miss this!
As we welcome 2022, I pray you remember the 'good news of great joy'. We hope to see you at Museum of the Bible soon!
And the angel said to them,
"Fear not, for behold, I bring you good news of great joy
that will be for all the people."
-Luke 2:10 (ESV)
Christmas blessings to you and yours!

Jackie Green
Museum of the Bible Co-Founder and Women of Legacy Founder