Museum of the Bible and 'The Chosen' — A New Partnership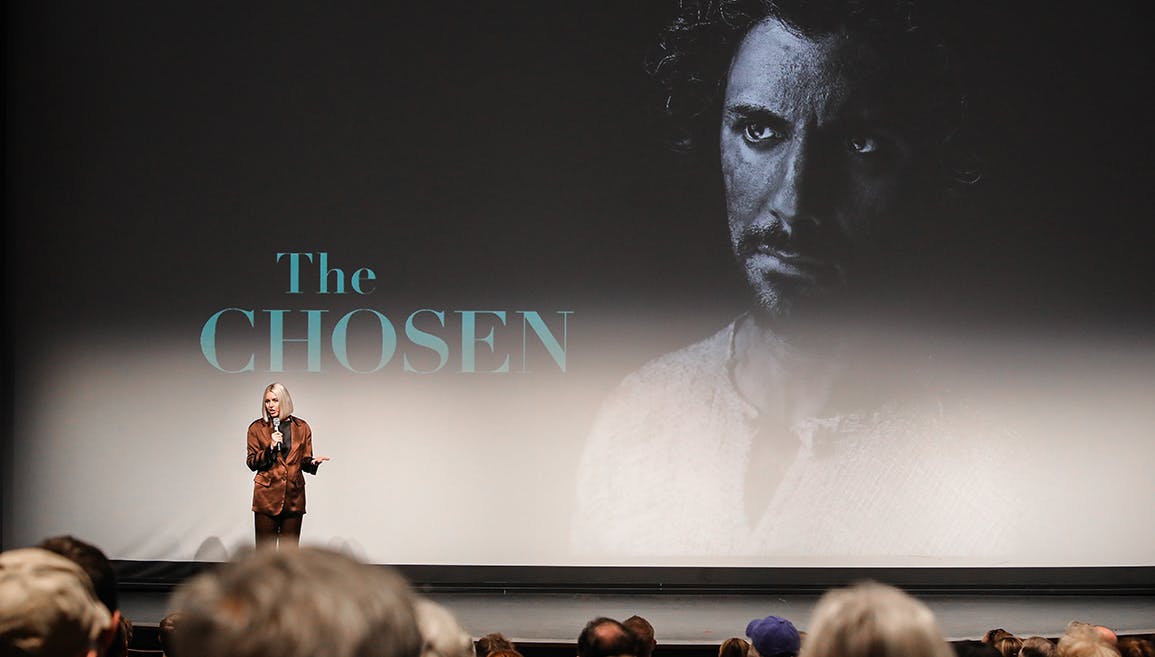 At Museum of the Bible, part of our mission is to engage people with the impact of the Bible on American and global culture. Our new partnership with the hit drama series The Chosen does just that. Not only is the show a hit with audiences worldwide, but it engages people directly with the stories of Jesus's life found in the Bible.
The Chosen, if you have not yet had a chance to see it, provides an intimate look at Jesus and his 12 disciples, as well as at characters connected to them who do not feature in the Bible. such as the apostle Peter's wife, Eden. With more than 420 million views, the show has proven to be a global phenomenon.
Our new partnership brings several new initiatives to the museum. The first is the installation of a new film in our Galilee Theater. This film, located on the Stories of the Bible Floor, now features scenes from the show of Jesus's ministry throughout the Galilee, the region where he grew up and began his work. This presentation prepares guests to walk through the World of Jesus of Nazareth, a re-creation of the village of Nazareth in the first century.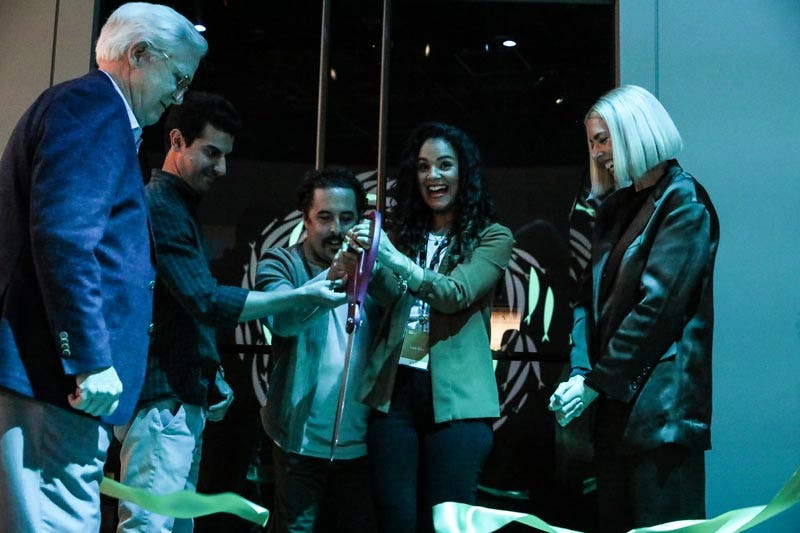 Figure 1: Actors from The Chosen cut the ribbon at the opening of the new Galilee Theater, now featuring scenes from Jesus's ministry to the Galilee. From L to R: Harry Hargrave, CEO at Museum of the Bible, Joey Vahedi (Thomas), Jordan Walker Ross (James the Less), Lara Silva (Eden, Peter's wife), and Katherine Warnock, VP of original content and producer for The Chosen.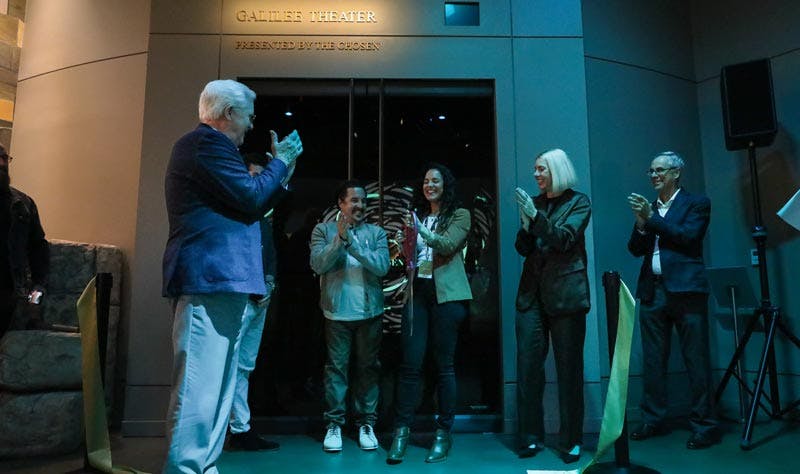 Figure 2: The new Galilee Theater at Museum of the Bible. The new film shows scenes from The Chosen of Jesus's ministry in the Galilee. The theater is located on Floor 3, outside the World of Jesus of Nazareth. From L to R: Harry Hargrave, CEO at Museum of the Bible, Joey Vahedi (Thomas), Jordan Walker Ross (James the Less), Lara Silva (Eden, Peter's wife), Katherine Warnock, and Bob Starnes, VP of product distribution and licensing for The Chosen.
The partnership has also brought two special events to the museum's World Stage Theater. The first was a screening of the documentary Unfiltered: Gen-Z Reacts to The Chosen, in which nine strangers were brought together for a surprise binge session of the first season of The Chosen. Afterward, they shared their candid reactions and responses to the series and its impact on them.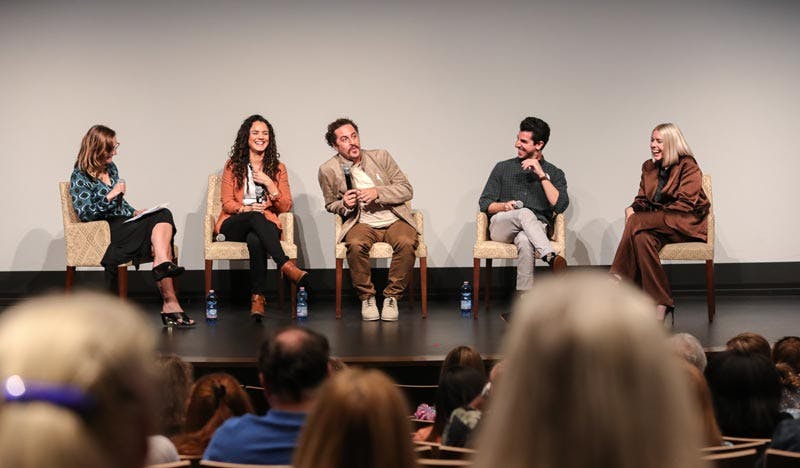 Figure 3: After the screening of Unfiltered: Gen-Z Reacts to The Chosen, some of the cast of The Chosen and Katherine Warnock sit down with Shannon Bennett, chief marketing officer at Museum of the Bible, to take questions from the audience.
The second event takes place tonight, November 17, where we will be showing the first two episodes of Season 3 one day before their national theatrical release. The event is sold out, but be on the lookout for more events in the future.
Last month, our director of communications, Charlotte Clay, had the opportunity to sit down with Katherine Warnock, head of original content and a producer for The Chosen, and discuss the show and the new partnership with Museum of the Bible. The full interview can be found here on our podcast, Today at Museum of the Bible. The following has been edited for clarity and space.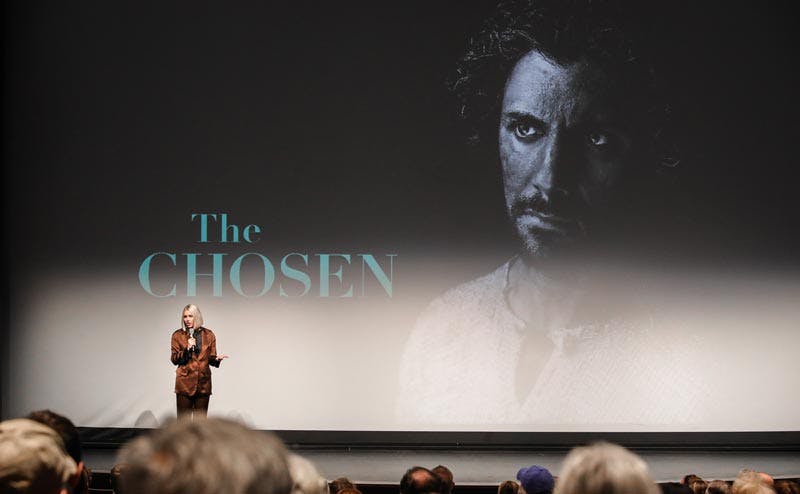 Figure 4: Katherine Warnock introduces the screening of Unfiltered: Gen-Z Reacts to The Chosen at the World Stage Theater at Museum of the Bible.
Charlotte: Welcome to Today at Museum of the Bible. I'm here today with Katherine Warnock, head of original content and producer of the global phenomenon television series about the life of Jesus, The Chosen. Thank you so much for being here. Tell me about your role and how you came to work on the series.
Katherine: I'm one of the producers, and I have the privilege of producing and helping to create a number of projects with The Chosen. We're building out The Chosen universe, which is exciting.
It's a fun story how I came to be with The Chosen. I was head of faith and family content at MGM years ago when a pilot episode called The Shepherd came across my desk. In this industry, you'll watch something for five seconds and you'll know what you have. And sadly, 95% of the time you just X out of it and it's a no go. So, I took note that I was still watching 60 seconds in. OK, I'm now tearing up 10 minutes in. I ended up watching the entire thing.
I had never done that in my 15-year career. I felt like God let me in on a little secret that this is going to be a global phenomenon. Not just faith content, but mainstream. I immediately emailed Mark Burnett, prolific producer in and of itself, and his wife Roma Downey, who's just extraordinary, and they immediately tried to acquire it. Unfortunately, we found out The Chosen was already in a distribution relationship with Angel Studios. Skip ahead a number of years, I ended up coming across The Chosen and I'm two and a half episodes in and there's no similar characters between A Shepherd and The Chosen. So, I had no idea that I was watching kind of the same content. And it dawned on me — this is it. So that's where it started. I was put into contact with Brad Pelo, president of The Chosen, and he just said, I have to make a role for you.
Charlotte: So how do you explain the huge growth in viewers? Over 400 million views and over 108,000,000 unique viewers in only a few years?
Katherine: Apart from the obvious that it's God and especially being built completely outside of the Hollywood system, outside of a traditional network distribution platform, it's just extraordinary. I think it's the humanity and the authenticity of how we operate, of how we portray this authentic Jesus. What I don't think a lot of people know is, yes, Christians are passionate about the project, but every day we get contacted from Muslims, Buddhists, agnostics, atheists, and even Satanists, saying we really love the show. I think it's speaking to the core of people in a way few shows in modern times have.
Charlotte: It's amazing. What's it like working for The Chosen?
Katherine: It feels like we're at times building an airplane mid-flight because we're doing something that has never been done before, and that's thrilling and terrifying. But it's the most extraordinary culture I've ever had the privilege of working in. The collaboration is profoundly present. I think what I'm most proud about is that in the faith arena, it's really rare to find leadership that is dogmatic in their approach to what they feel God has called them to do. They're not going to give in to public opinion or public pressure to do things a different way. And that is what our core leadership and Derral, Dallas, and Brad did from day one.
Charlotte: There must have been so many points where they could have sold out, right?
Katherine: Or just pivoted to the theological, for example, when Jesus rehearses the Sermon on the Mount, people were just up in arms about it. How dare you say Jesus would rehearse? And we're just like, hey, this is a creative interpretation. Or Mary Magdalene, when she went back to her old life and kind of fell from grace, and then was re-received by Jesus. People could not believe that someone that close would return to their old life. And we're just like, no, that's the point. The humanity of Jesus. I'm just so proud of a team that fights for the human experience, for those that knew Jesus best.
Charlotte: Absolutely. So last night, the museum was honored to host Katherine and several cast members for a special screening of their new documentary, Unfiltered: Gen-Z Reacts to The Chosen. Tell us how the idea to capture the reaction of Gen-Z to The Chosen began.
Katherine: Unfiltered: Gen Z Reacts to The Chosen is, to date, probably the project outside of The Chosen we're most proud of. Derral Eves, who's co-founder and executive producer of The Chosen, wanted to bring together a whole bunch of Gen-Zers and have a blind experiment. They don't know they're about to watch The Chosen, but they just binge it. So, we thought we were just going to make kind of a 30-minute in-house YouTube documentary. We didn't understand that it was going to evolve into a feature documentary. We brought together nine Gen-Zers from around the world of all different faith backgrounds, worldviews, many with, what we didn't know at the time, traumatic histories.
So, nine ended up coming and we showed them the trailer. And the moment is so precious when they all understood we're going to binge Jesus for the whole day. They talked about the good, the bad, the ugly of Christianity, culture, their times, and what they've been through. And I think they are going through more than what any generation in modern times has had to go through, has had to wrestle with in terms of identity, core belief systems, and issues. They're the most post-secular generation of our time. We had a pagan, we had a Catholic, we had an atheist, we had someone raised in an abusive Christian cult, we had someone who hated Christianity, we had someone raised as a Jehovah's Witness exploring Judaism, and the list goes on.
Charlotte: How did you find the participants?
Katherine: This is the tricky part because you can't just cold call and cast people. Okay, let's go to people that are aspiring actors so we know they're comfortable on camera. Let's go to casting networks where they're unaccredited. They submit self-tapes and tell us about a transformative time in life. And how they chose to self-tape themselves told us everything we needed to know. So, we have thousands of submissions. There's about 50 I sat down and did casting with, and from there we got our nine.
Charlotte: What was it like for you to go on the journey with them?
Katherine: They're my babies. Members of my team just made it the most powerful coming together of just this family, the most trusted group of individuals that profoundly journeyed a lot together in a year. For me, the most surprising thing was that they began to share their back stories. From sexual abuse to just abuse, to severe mental illnesses and suicide attempts, we didn't even know these were part of their stories. So for me, the biggest honor was to see them share these stories I think we as Christians don't talk about enough. We just don't have the hard conversations enough and let it get messy.
Charlotte: It kind of comes up in The Chosen 2, where Jesus says you'll be a fisher of men now, and from there, I'll sort them out. And that was really reflected in the documentary. Same thing we like to do here at Museum of the Bible. We want to share the Bible with everyone from all faiths, all walks of life.
Are you still in touch with these cast members?
Katherine: There are a few I meet with regularly. Some have asked for mentorship, regular check-in. Others just professional or life check-in. And then we're all on a text thread together where we'll check in all the time, which is really sweet.
Charlotte: What has been the reaction of the public to the documentary?
Katherine: It's been so wonderful. It's been fun to see, especially, older generations saying, I always just kind of couldn't stand Gen-Z. And now I've met the reality of what Gen-Z is having to endure, what they've been through, how they're thinking, what they're entrenched in. I have so much compassion now.
Charlotte: What more can we expect from The Chosen?
Katherine: The long-awaited season three release — it's coming. We're releasing in theaters episodes one and two on November 18.
Then we'll roll out Livestream, an app, beginning in December or January. And then we have a lot of other fun projects.
Katherine: We're building out the Unfiltered series and developing a number of new IPs [Intellectual Properties]. We're expanding The Chosen universe.
Charlotte: Well, I can't wait to hear more. So, finally, what's the impact you hope for through the partnership of The Chosen with Museum of the Bible?
Katherine: It's so difficult to find a partnership like this where the synergy is so impeccable, where the desire is to truly gather all people. That's the synergy we feel with Museum of the Bible. We're profoundly honored and our hope is that we have many more events where we're inviting the public in greater measure to meet the authentic Jesus together.
Charlotte: Well, we are so excited to be partnering with The Chosen. Thank you so much, Katherine. See you soon.
Katherine: See you soon.
Have weekly museum updates delivered to your inbox.