To show our appreciation for all those who have served, and those who continue to serve, Museum of the Bible will offer free admission to active duty service members and veterans, and to their spouses and children, from November 6–13, 2020.
Simply present your military or veteran identification card at our ticketing counter and you will be admitted free of charge. Thank you for your service.

Free admission applies only to active duty service members and veterans who provide credentials of current or past military service and their spouses and children who provide a valid military dependent ID card.
Military Artifacts on Display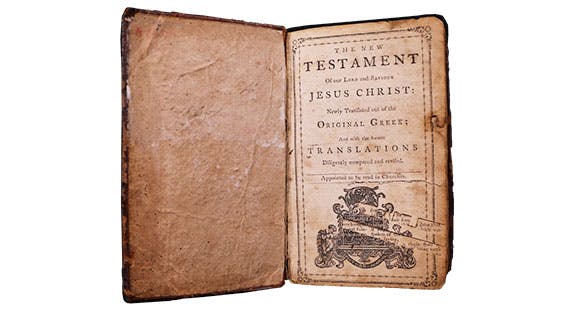 Aitken New Testament (1777)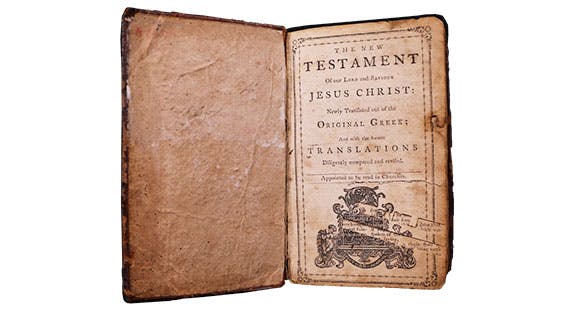 On view in The Impact of the Bible, Bible in America
Robert Aitken (1735–1802) published this New Testament in 1777, only a few years after the American Revolution began. Born in Scotland, Aitken immigrated to Philadelphia in 1769, where he worked as a bookseller and publisher. The British government had long regulated the publication of English Bibles, forcing colonists to import them from Britain or Europe. The outbreak of war subsequently created a shortage. Aitken broke the crown's monopoly by printing his New Testament in 1777. He would go on to publish the Aitken Bible in 1782, known by many today as the "Bible of the Revolution."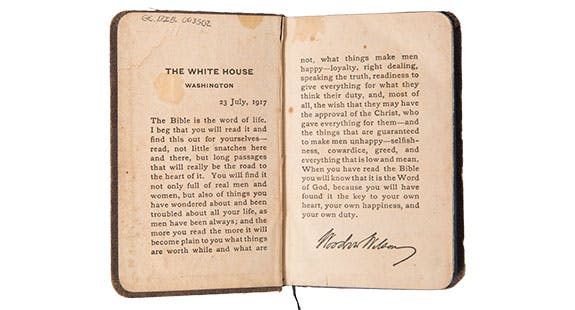 The New Testament, YMCA–American Navy Edition (1917)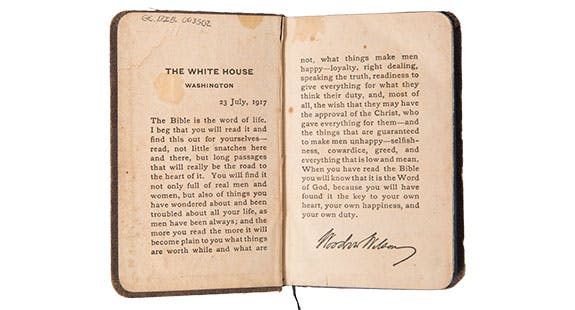 On view in The Impact of the Bible, Bible in the World
The United States entered World War I in April 1917. In the ensuing months, millions of Americans volunteered for the armed services. Millions more would be drafted. Organizations such as the Young Men's Christian Association responded to this call to arms by producing millions of Bibles, or portions of the Bible such as this New Testament, and distributing them to soldiers and sailors. As in previous wars, these organizations believed Bible study would be essential to strengthening the resolve, as well as the morals, of military personnel as they entered the theater of war. The YMCA printed this New Testament for the American Navy. It includes a message from President Woodrow Wilson.