Celebrate the holiday season with Museum of the Bible. Join us for daily readings of the Christmas story, special exhibits, choral performances, Christmas crafts, and more! Museum of the Bible is also hosting special musical performances—including Sing! An Irish Christmas with the Gettys.
Don't miss this immersive Christmas experience for all ages. Bring your family and friends and come celebrate the wonders of Noel at the most joyful place in DC.
*The museum is closed Thanksgiving Day, Christmas Day, and New Year's Day.
The museum closes at 4:00 p.m. on Christmas Eve.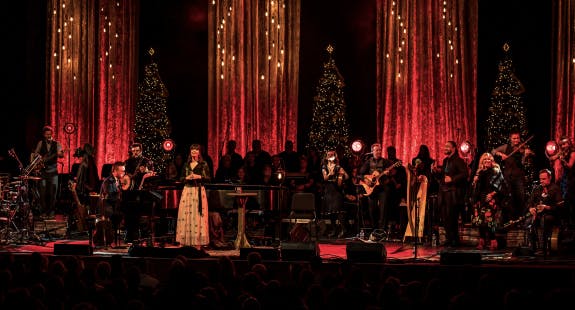 One: Live Music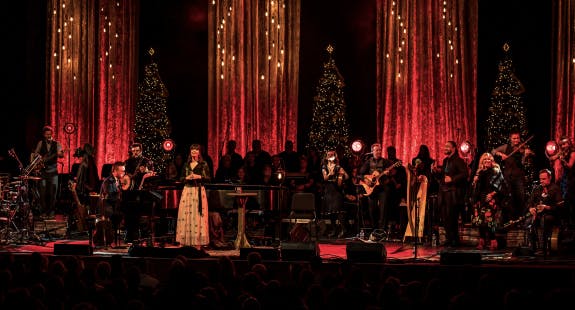 Delight in the joyous sounds of the season at one of our festive holiday concerts. Our World Stage Theater makes a spectacular setting for the performances coming this Christmas.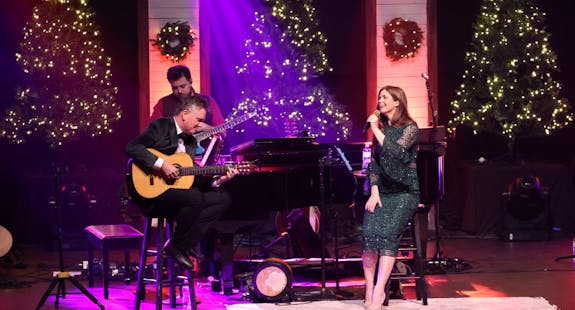 Sing! An Irish Christmas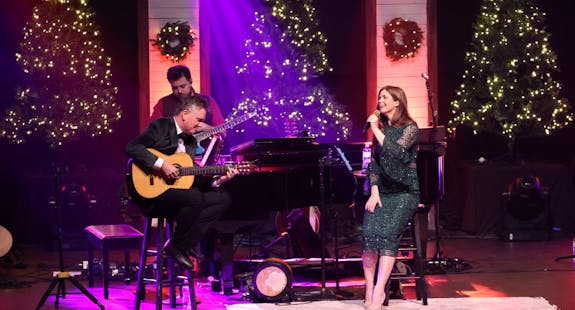 Dates: December 11–13, 2023
Join us for Keith and Kristyn Getty live at the World Stage Theater. The Gettys and friends will be performing Sing! An Irish Christmas, a concert previously aired to millions on TV. Back by popular demand, the Gettys are at the museum for three nights, December 11–13. This year's Christmas tour will feature new songs, along with many of the traditional Christmas carols you and your family know and love. Tickets are selling fast, so make sure to get yours today!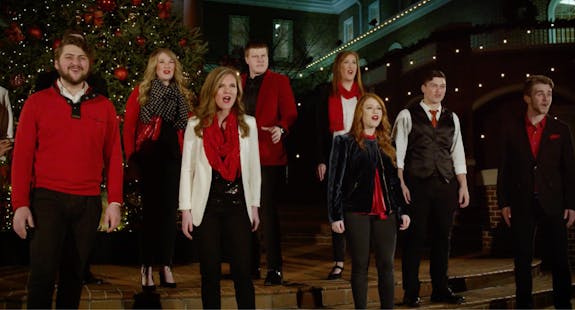 A Cappella Christmas—An Evening with Voices of Lee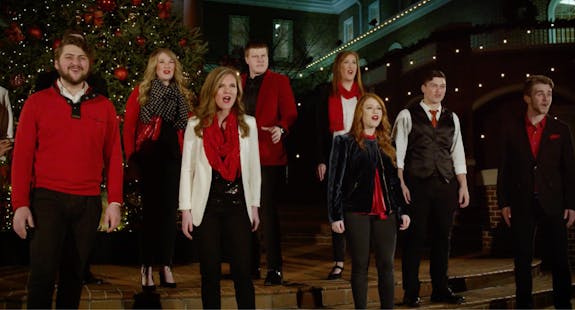 Date and Tickets Coming Soon
Join us for A Cappella Christmas—An Evening with Voices of Lee live at the World Stage Theater. The Voices of Lee is a 14-member a cappella ensemble from Lee University in Cleveland, TN. This special event with the award-winning ensemble is for one night only.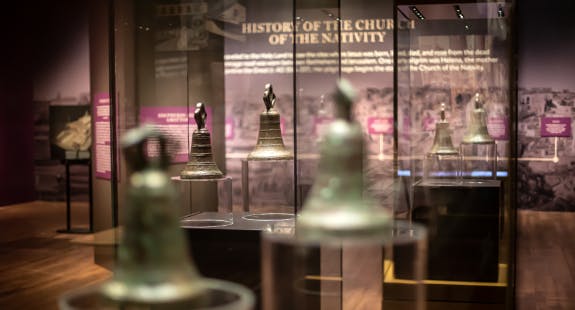 TWO: Special Exhibits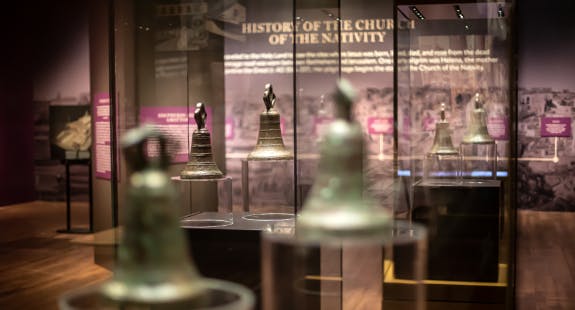 History and international artistry bring the wonders of Noel to life in each of our Christmas exhibitions. Experience the significance of the season, spanning past and present, through the modern heritage of Malta's handmade Nativities, and explore the history of the Church of the Nativity in Bethlehem.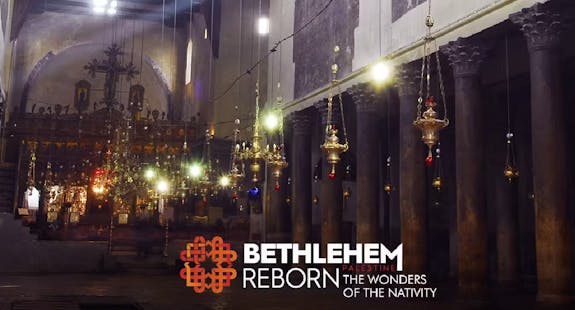 Bethlehem Reborn Guided Tour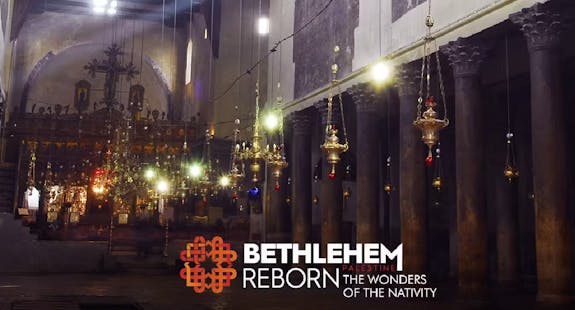 Day and Time: Fridays, 12:00 p.m.
Tour Location: Grand Hall (under the "Exhibits" sign)
Exhibit Location: Floor 5
Join us on a journey through Bethlehem Reborn: The Wonders of the Nativity exhibit, where we will explore the history of one the most famous sites in Bethlehem, its importance, and how it has endured for more than a thousand years.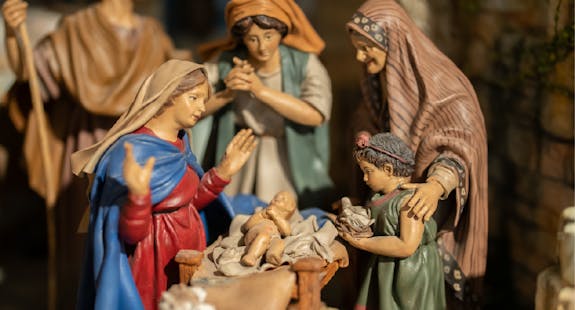 Christmas in Malta: Winners of the 2023 Nativity Crib Competition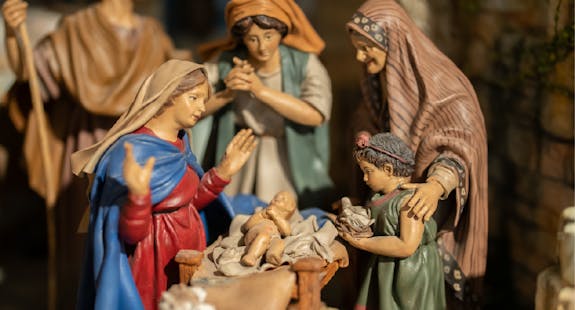 Dates: November 17–January 7, 2024
Location: Floor 5
Museum of the Bible is once again honored to partner with the Ministry for National Heritage, Arts and Local Government of the Republic of Malta to host an exhibition of three handcrafted Nativities from Malta's 2023 national crib competition, which began during the 1950s to teach local children about Christmas.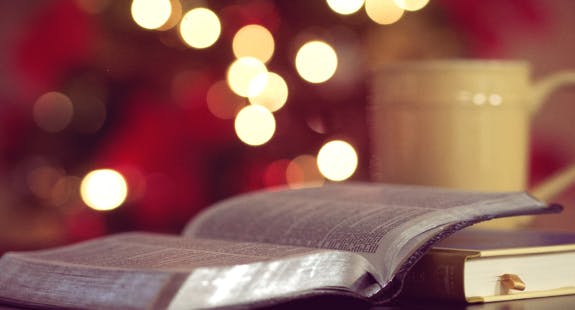 THREE: Christmas Story Readings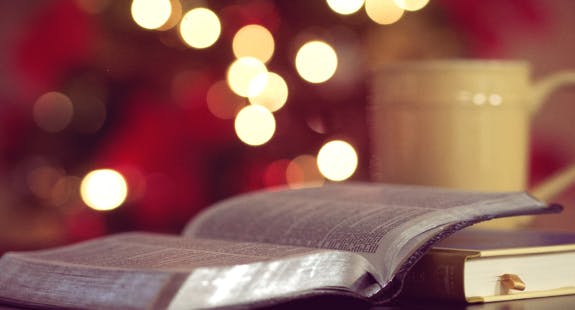 Day and Time: Daily, 3:00 p.m.
Location: Grand Hall
Participate in immersive story times presented by Museum of the Bible educators. Enjoy the different ways literature tells the Christmas story. Engagement will be the center of this moment. This story time is for all ages and will be offered in different languages throughout the season!
More information coming soon.
FOUR: Christmas Market
Daily
Location: Grand Hall
At our Christmas Market and Museum Shop, find unique gifts from around the world that the whole family will enjoy. Stop by and finish your Christmas shopping with us!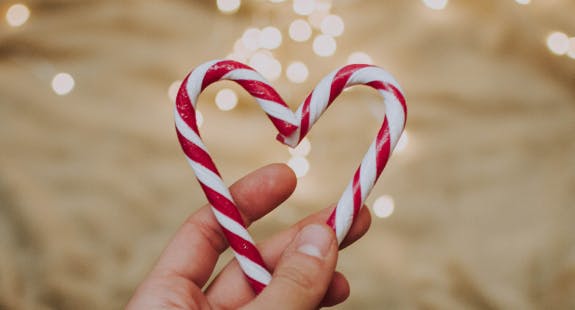 Five: Festive Experiences for the Whole Family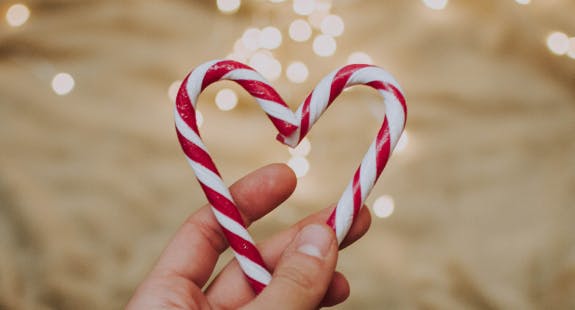 Gloria: The Wonders of Noel comes alive through our dedicated presentations and creative activities designed for "kids from one to 92." Join us for one of our many hands-on events throughout the month.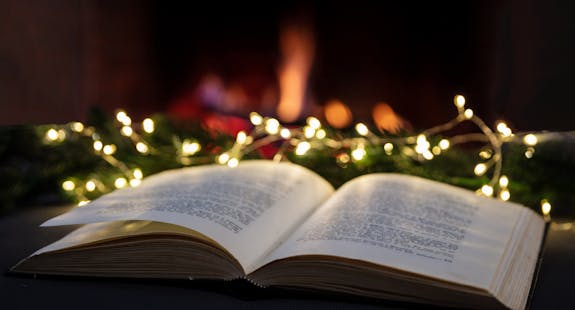 A Christmas Carol Experience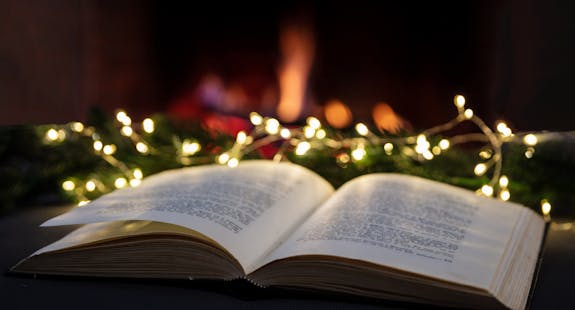 Days and Times: November 24–December 30; Fridays and Saturdays, 1:00 & 2:00 p.m., Sundays, 1:00 p.m.
Location: The Galilee Theater, Floor 3
Did you know there are multiple biblical allusions in A Christmas Carol by Charles Dickens? Join us in this interactive dialogue, where you will be invited to help the narrator change Scrooge's disposition toward Christmas. This immersive experience is 15–20 minutes in length.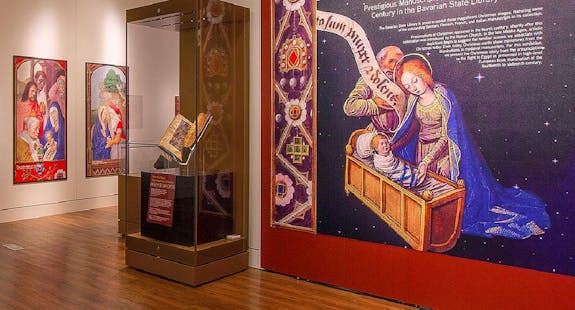 Illuminated Manuscript Workshops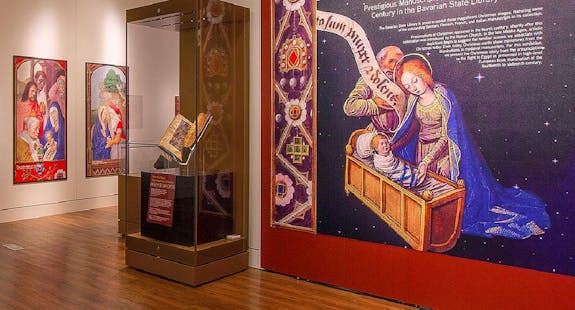 Day and Time: Sundays, 1:30 p.m.
Location: Multipurpose Room, Floor 1M
Bring your Bible and join our museum educators as we discuss the art of illuminated manuscripts. We will create illustrations around the Christmas story, so come ready to express your creativity! Art supplies will be provided by Museum of the Bible for the workshop.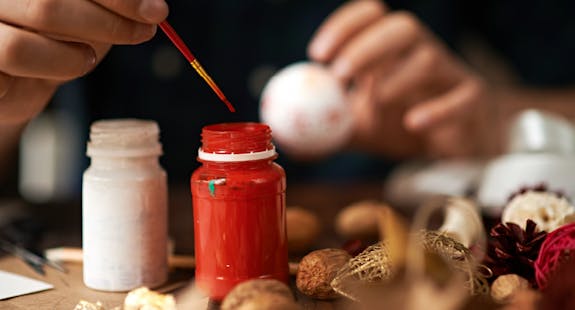 Ornament Creation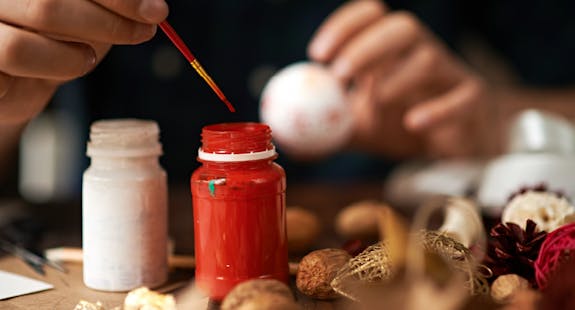 Day and Time: Fridays, 10:00 a.m.–4:00 p.m.
Location: Education Station, Floor 4
Join Museum of the Bible educators at our Education Station to create your own Christmas ornaments and enjoy other activities related to the museum's Christmas celebrations.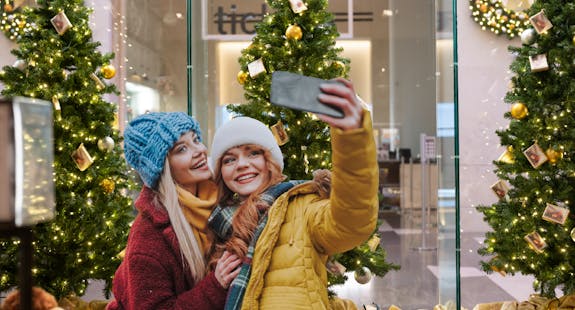 Capture the Moment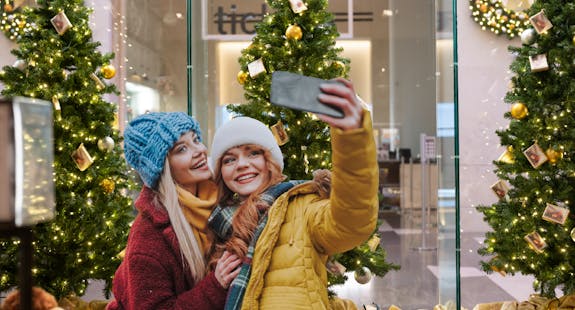 Daily
Location: Grand Hall
Capture memories of your holiday visit with family and friends at our Selfie Station—an enchanting display that beckons you to take festive photos.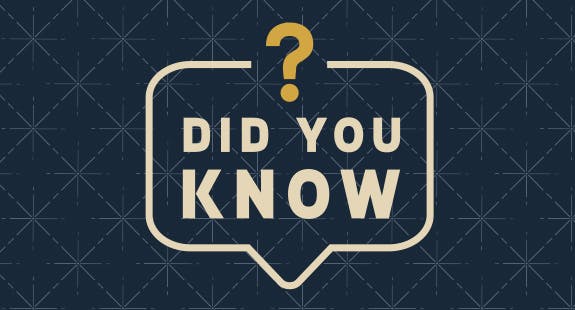 A Special Did You Know?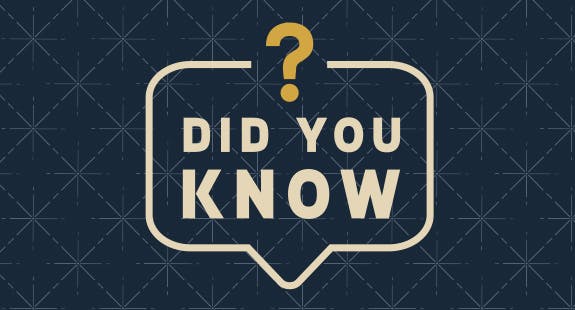 Day and Time: Fridays, 11:00 a.m.
Location: Demo Lab, Floor 4
Participate in brief dialogue-driven presentations by museum curators and educators about artifacts related to Christmas and Hanukkah.
Glory to God in the highest, and on earth peace among those with whom he is pleased!
Luke 2:14 (ESV)