Get to Know
Martha Zumwalt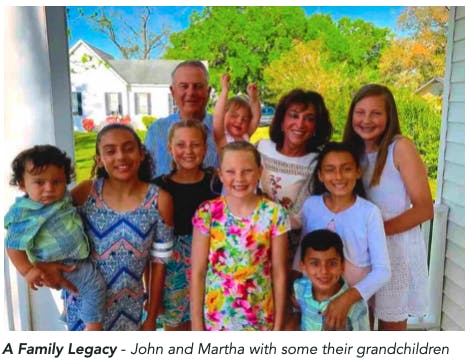 Can you tell us about yourself and your background?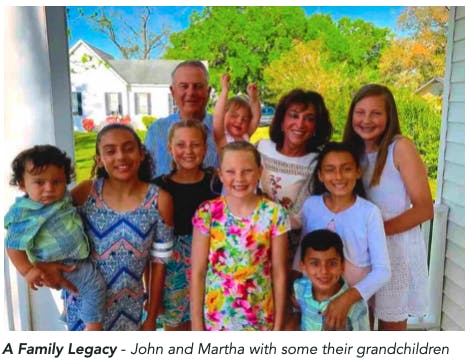 I am a child of immigrants. My father's childhood was full of tragedy. He lived in the streets of Ecuador. He was orphaned after his mother died of starvation and his sister was sold to child slavery. He had nothing but a third-grade education, but he was a hard worker. He was able to move to New York, where he met my mother. They were married and had six children, inspired by my father seeing a woman coming out of a bodega with six kids—much like stair steppers of legacy.
My husband, John, and I live in Odessa, Florida, and we are proud blended parents of 5 children and 13 grandchildren. In 1986, I founded, with my late husband, National Graphic Imaging (NGI), which became the largest reprographics firm in the Southeast US. During the NGI growth period, I received the Tampa Bay Business Journal's Women in Business Award 2002. In 2007, I sold my company NGI to ARC, a publicly traded company. Today I serve as Founding Principal and VP for Strategic Business Positioning of Crossroads Advisory. I am actively involved as a Resource Council Member for Derek Jeter, Albert Pujols Family Foundation Advisory Board, and Marc Anthony Maestro Care Advisory Board. I have worked closely with Charles Barkley, raising funds for his minority scholarship at Auburn University. It brings me sincere joy to serve God and others in these roles.
Growing up with such a rich heritage, what are some of your favorite family traditions you have continued in your family today?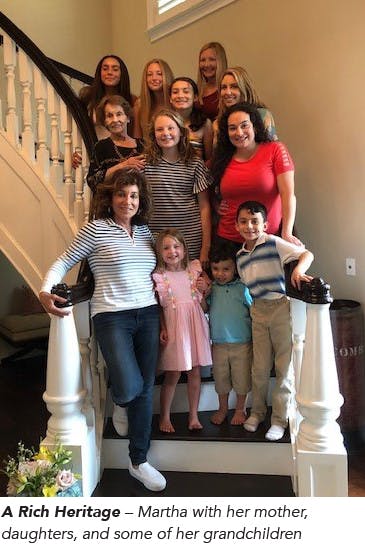 I cook many meals from my childhood. Some of my family's favorites include arroz con pollo (chicken and yellow rice), chicken fajitas, homemade fettuccini alfredo, meatballs, and chicken parmesan. I make all my sauces from scratch. As a grandma—or as they call me, "Lalie"—to 13 kids, this means I cook a lot! Sharing experiences with my grandchildren is more important to me than giving them presents. One of my favorite memories includes taking each of my grandchildren to Maine, where we rented a big farmhouse. I cook all the meals ahead of time and freeze them in Ziploc bags so that we can truly enjoy every moment together while on vacation.
Thanksgiving is another favorite tradition for me. We all go around and say what we are most grateful for—with no pressure or expectations to say "family." Last Thanksgiving, my grandson had turned 8 and said he was grateful that God lives in his heart. As a grandmother, there is nothing more precious for me to hear.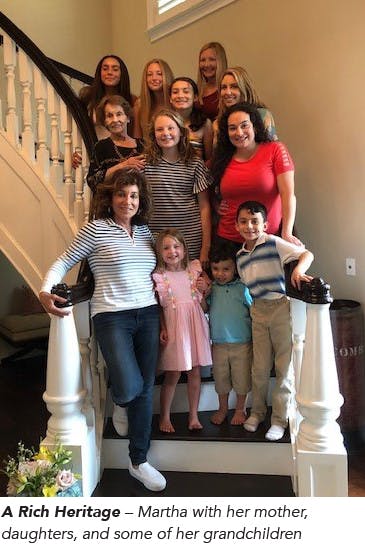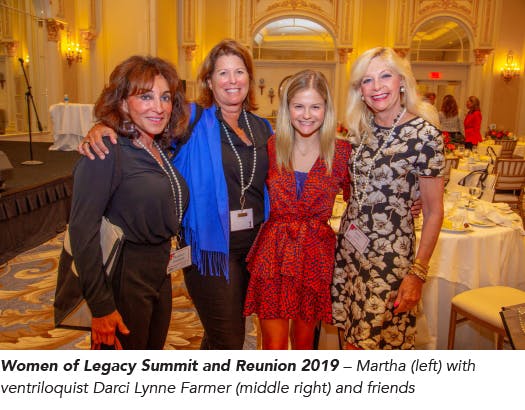 Why did you become involved with Museum of the Bible?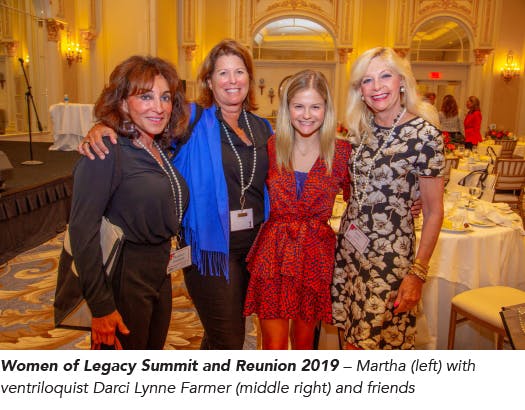 A few years ago, my good friend Lucille O'Neal (Shaquille O'Neal's mother) asked if I would be interested in serving on what was at the time the Women's Advisory Board. I firmly believe that passion fuels purpose and purpose fuels destiny, which is what led me to be so in awe of the museum's mission. I am passionate about the Bible and can see the transformation of lives happening because of Museum of the Bible. I am so honored to be a part.
I firmly believe that passion fuels purpose and purpose fuels destiny, which is what led me to be so in awe of the museum's mission.
Who is your legacy inspiration and how do you hope you can instill that into your legacy?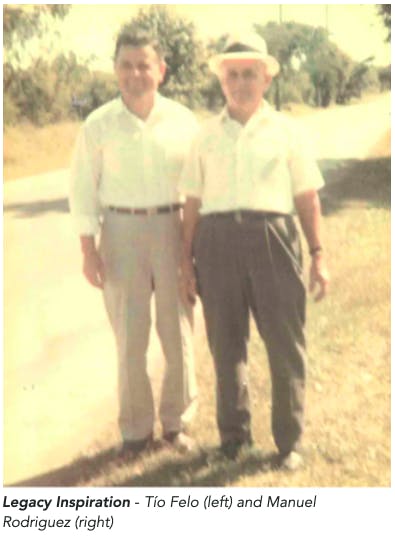 My grandfather Manuel Rodriguez is my inspiration for my legacy. His father, Felipe, was a butler for Queen Isabella of Spain. Queen Isabella had faith and confidence in Felipe for him to buy land in Puerto Rico on behalf of Spain.
Felipe was a man of great integrity and full of faith. As he journeyed to Puerto Rico, he met his wife and had four children. My grandfather, Manuel, was his eldest son. Unfortunately, Felipe was poisoned because of others' envy and covetousness toward his righteousness. Manuel (my grandfather) took responsibility for caring for his mother and his brother. Manuel only knew farming. His brothers grew to be men and his mother remarried. He decided to marry a godly woman named Martha.
Martha and Manuel established themselves to be people of God. They had continued to feed the poor, even though they were poor themselves. My uncle Tío Felo used to be upset with his mother because they could hardly put food on their own table, until one day many years later he saw his own blessings. Martha would tell him she is still giving to the poor and perhaps someday he would see the work of the Savior's hand.
My uncle Tío Felo was a mailman who had four children. He was interested in buying his first home, but he did not have enough for a down payment. He went bank to bank and everyone turned him down. Until one day, he said to his wife, "Let me try this bank down the road." He filled out an application but the person at the bank told him he did not have enough for a down payment. It was the same story again and again.
The good Lord showed up in a big way. The president of the bank called him in and asked him a few questions. Of course, Felipe was extremely nervous. He was wondering why he was being so nice to him. The president of the bank asked him a few important questions, including if Manuel and Martha were his parents. He said, "Yes, sir." During their meeting, the president revealed that he, too, had grown up poor and remembered Manuel's mother feeding him and his mother. Tío Felo knew then the seeds his mother had sown had reaped his very own harvest. That story changed my life and taught me the true meaning of generosity. I relate so much to David Green's book, Giving it all Away and Getting it Back Again, as he, too, had nothing, yet his mother continued to serve God and others by supporting missionaries.
My grandfather could not read or write, but his sons would read him the book of Psalms. He was to some just a poor farmer, but the generational blessing that was given to him and has been passed down to me is something I hope to pass down to my children and grandchildren. I pray I can sow the seeds of generosity, too.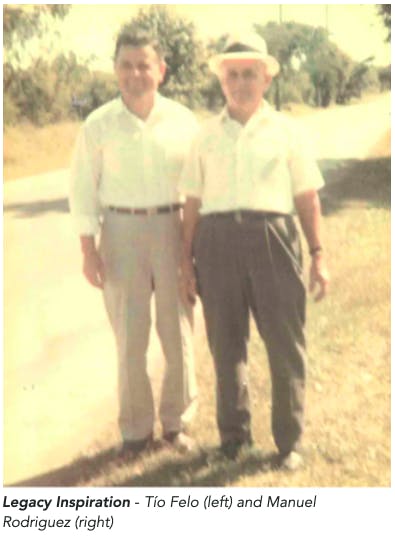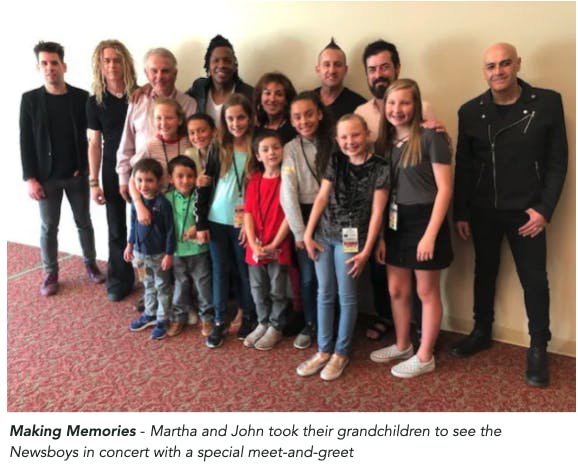 What is the most valuable lesson you have been taught?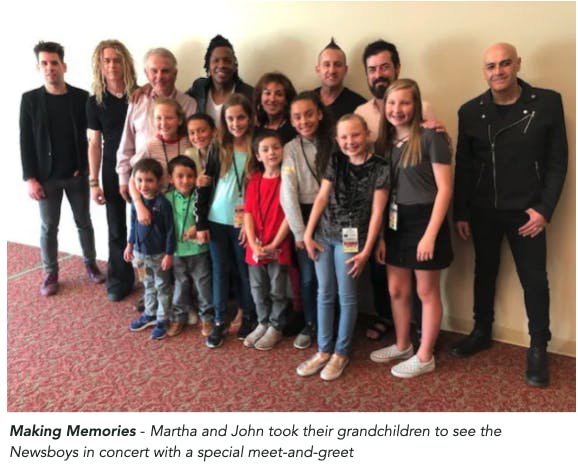 The most valuable lesson my grandfather taught me is to say nothing but pray about everything. Anything I am going through, be it trials, tribulation, or warfare, I know I can go to my knees and see history being changed. As I have gotten older, my prayer rhythms have evolved. Prayer is the most essential weapon I have to tear down any stronghold that tries to come against me or my family. I pray to the Lord that He would defend the weak one, who is me.
Just as my grandfather had a farm to till, I have a garden to till with my life, given to me by God. When the storm is rising up all around me, I can lie in the boat and know I will find peace in His presence. I can pray and practice the art of gratitude. We can often overlook all we have to be thankful for, even if it's just gratitude for a shoelace. I thank God for the air I breathe, healed emotions, the food I eat, the family I have, and my soundness of mind. He chose us and formed us of the miry clay, and it's up to us to pray that He would reveal why it is He chose us, so we can live out our lives glorifying Him and leaving a legacy honoring his Word.
Prayer is the most essential weapon I have to tear down any stronghold that tries to come against me or my family.