National Prayer Altar
The next National Prayer Altar service will be held Wednesday, September 29, at Museum of the Bible and will be hosted by Pastors James and Sharon Ward. Everyone is welcome to gather with us as people of all ethnicities, ages, cultural backgrounds, and denominations unite in prayer. Our simple aim is to unite the church to heal the land. We hope to see you there or online!
According to 2 Chronicles 7:14, the health and healing of the land can only come about when we unite to humbly and wholeheartedly seek the Lord's face. It will not come through another election or through a political party. The Bible says that the healing of the land comes through God alone.
Sep 29, 2021 - Sep 29, 2021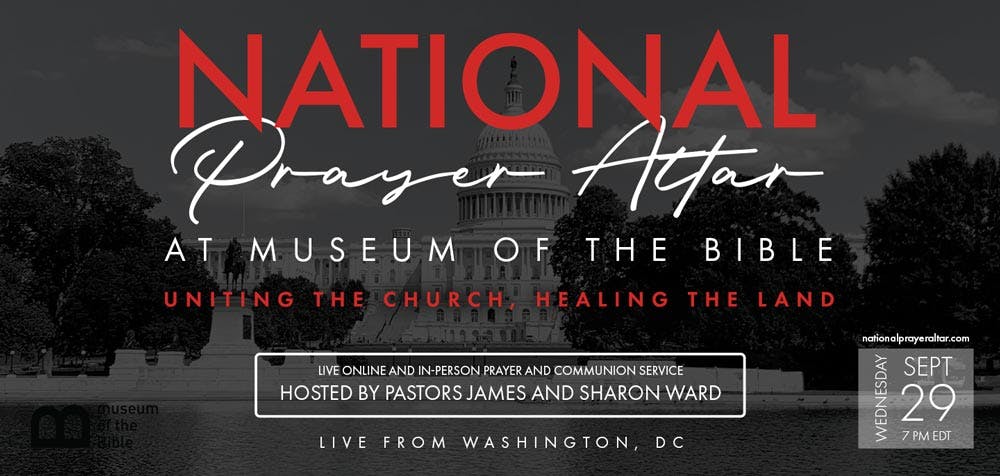 Attendance is free for this evening service in the World Stage Theater, but tickets are still required. Click below to select how you'd like to attend.
Also, registration for the National Prayer Altar does not include admission to the museum during the day. If you plan to visit the museum during our normal business hours, please purchase museum tickets here and use code NationalPrayerAltar21 to receive a discount.
"If My people who are called by My name will humble themselves, and pray and seek My face, and turn from their wicked ways, then I will hear from heaven, and will forgive their sin and heal their land."
2 Chronicles 7:14 (NKJV)