Lunch and Learn: Saving the Shrine of the Prophet Nahum
Learn about the significance of the Shrine of Prophet Nahum and efforts to restore this historical site. Listen to Dr. Cheryl Benard, president and founder of ARCH International, and Sophia Schultz, director of international programs, who will talk about saving the Shrine of the Prophet Nahum. They will speak about who the Prophet Nahum was, how ARCH located the shrine, and what is involved in carrying out a restoration project just miles from Mosul.
This event is free and open to the public. After registering through Cvent, you will receive a confirmation email with a link to join the Zoom meeting. Please check your spam folder for the confirmation email if you do not see it in your primary inbox shortly after registering.
May 26, 2021 - May 26, 2021
This event will be held virtually through Zoom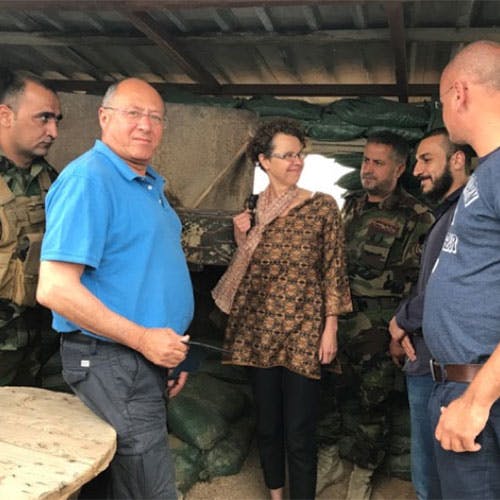 Dr. Cheryl Benard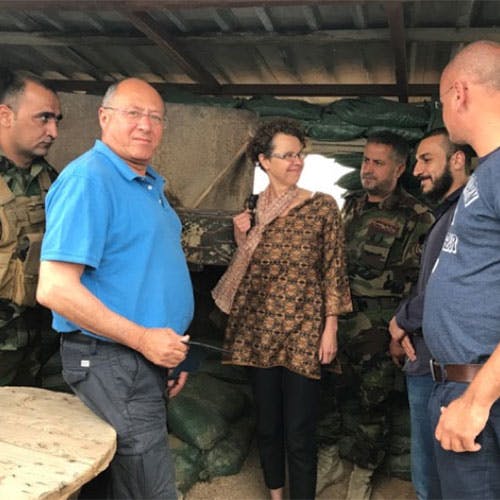 Cheryl Benard was born in musical, multicultural, historic New Orleans. She has a PhD in international relations. Before joining RAND Corporation, she was a senior analyst and program director for European and US think tanks. At RAND she worked on issues of counter terrorism, national security, and post-conflict reconstruction. She is the author of more than 20 books, including two novels. She founded ARCH as a consequence of being continuously impressed during her travels with the resilience and creativity of individuals and groups who were determined to retain treasured aspects of their culture even under the most trying circumstances. As a member of a military family, she grew up in post-World War II Europe, where she saw destroyed cities rise anew and populations take hope from the rebuilding of their monuments, buildings, and traditions.
In 2016, together with ARCH's Deputy Director Adam Tiffen on a trip to Kurdistan, Iraq, she was alerted to the precarious state of the Shrine of Nahum. With ISIS still active in close by areas, they visited Alqosh for a quick first assessment and, more importantly, to meet the local residents. Since then, Cheryl has been the team lead of ARCH's Stand With Nineveh project.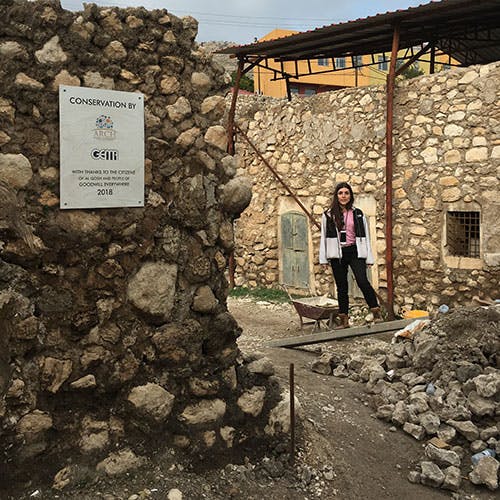 Sophia Schultz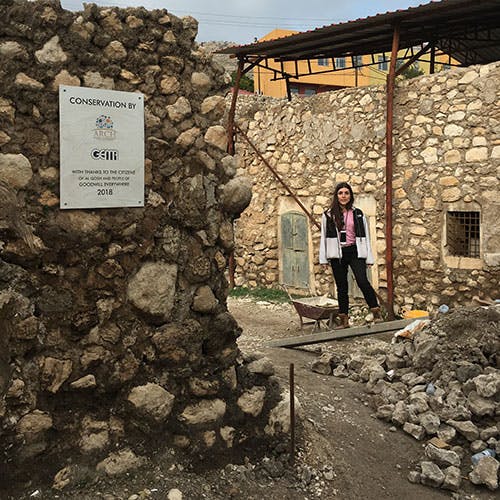 Sophia Schultz grew up in the Baroque district of the small town of Kirchheimbolanden in southwest Germany. Her journey into a career in cultural heritage began with her interest in contemporary art and the Middle East. After studying cultural sciences at the European University Viadrina, close to Berlin, she began publishing in art catalogs and worked on political contemporary art and film projects. Her involvement with ARCH began while she was a Middle East politics postgraduate at the School of Oriental and African Studies in London. She also worked for an organization that creatively tackled censorship in Iran. Sophia has always admired the "troublemakers"; the people who courageously stand up for the greater good of humanity. In working to protect our shared history, she looks for the emotional connections to the past, and the universal experiences found within them.
Sophia has been part of the Stand With Nineveh project since 2016, when she was still based in Germany, and has continued this work as project manager.