By the 1920s, "Amazing Grace" had been sung for nearly 150 years. As the twentieth century progressed, rapid and aggressive change began to emerge in every facet of life. "Amazing Grace" endured, but not without alterations. The birth of audio recording in the 1920s led to the crossover popularization of two major genres of music in America—folk and gospel. Previously insular to the communities they originated in, these two musical expressions spread throughout the country, inspiring new forms and fusing with old ones until elements of each could be heard in many styles of music.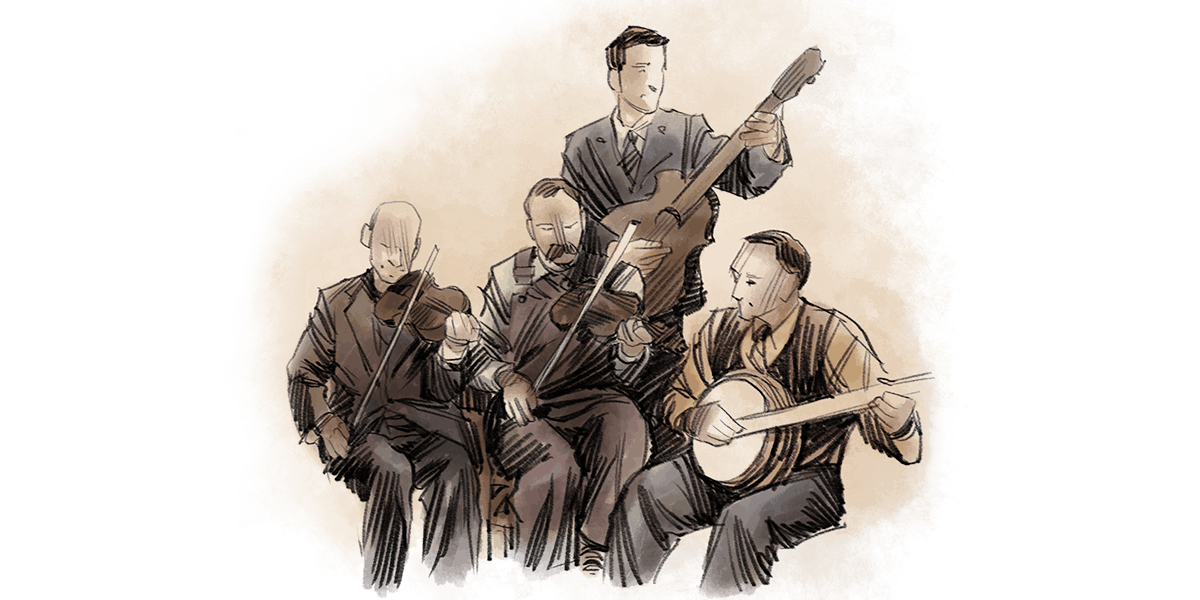 In 1922, Brunswick Records recorded "Amazing Grace" for the first time. It was sung by The Original Sacred Harp Choir and preserved the long-standing practice of camp meetings and shape-note singings. Ten years later, John and Alan Lomax, a father-and-son duo, accomplished a similar feat by traveling across the southern United States making local recordings. Their first recording of "Amazing Grace" was in 1935 by Aunt Molly Jackson, a fifty-five-year-old white labor activist from the Appalachian Mountains of Kentucky. Their laborious body of work, along with invaluable writing by George Pullen Jackson, not only preserved this fading culture for posterity, but also documented the colloquial variations of the song.
The first accompanied recording of "Amazing Grace" was made in 1930 and featured Fiddlin' John Carson; it was set to the tune of "At the Cross." The inclusion of instruments primarily used in settings such as bars and clubs was a bold choice for a sacred song. Critics speculate that it was considered somewhat blasphemous or, at best, a joke, for the recording was never released. This choice of accompaniment, however, took "Amazing Grace" out of the church and into the city.
By making it possible to record and play back music in remote areas, away from electrical sources, it gave a voice to the voiceless. It documented music, such as the complex polyphony of the blacks, which notation couldn't represent. Thus, the portable recorder put neglected cultures and silenced people into the communication chain.
Alan Lomax, ethnomusicologist
Early Folk Recordings from the 1920s to 1940s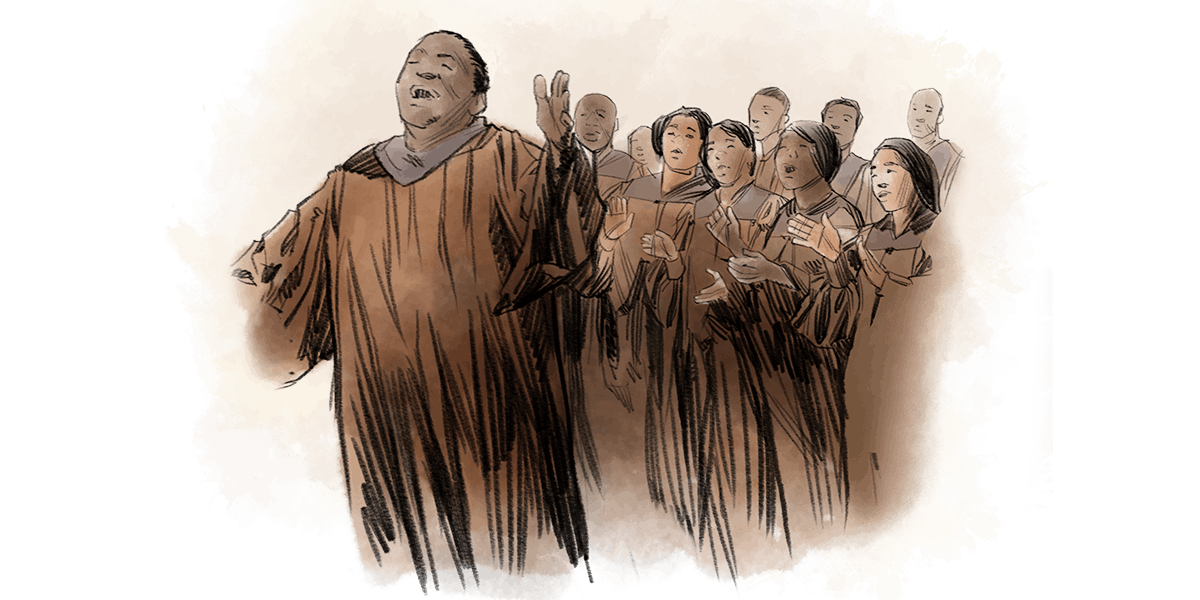 Like folk music, the earliest gospel recordings of "Amazing Grace" were documentary, providing a historical account of how "Amazing Grace" was being sung in black churches of the time. Made in New York City in 1926 by Rev. H. R. Tomlin and Rev. J. M. Gates and derived directly from William Walker's arrangement in The Southern Harmony, they did not have the additional stanza ("ten thousand years") or the changes introduced by Edwin Othello Excell.
"Amazing Grace" continues to be a song that speaks to the congregations of gospel churches as a story of survival and of deliverance. As John Newton's third stanza reads, "Through many dangers, toils and snares, I have already come." Perhaps this is why all the great gospel artists recorded it, each in his or her own way, stretching the melody and improvising the tune to match the emotion present in each word, at each moment.
The most noted gospel recording of "Amazing Grace" was by Mahalia Jackson in 1947. The writer and poet Langston Hughes commented: "The gospel song began to reach a public for whom it was not intended at all, and its vogue has been mounting ever since."
It's a song that reaches way down. Anybody that's got any kind of religion can feel the sincerity of that song.
Joe Ligon of Mighty Clouds of Joy
Those songs ['Amazing Grace' and 'The Day is Past and Gone'] come out of conviction and suffering. The worst voices can get through singing them, 'cause they're telling their experiences.
Mahalia Jackson, gospel singer
Early Gospel Recordings from the 1920s to 1950s
There are many more renditions of "Amazing Grace" from this time period.
Here's a list to enjoy on your favorite streaming platform.
The Wisdom Sisters, September 1926
Rev. H. R. Tomlin, 1926
The Dixie Hummingbirds, July 1946
The Fairfield Four, November 1948
Mahalia Jackson, 1948
The Original Five Blind Boys, 1950
Jesse Fuller, April 22, 1955
The Harmonizing Four, 1956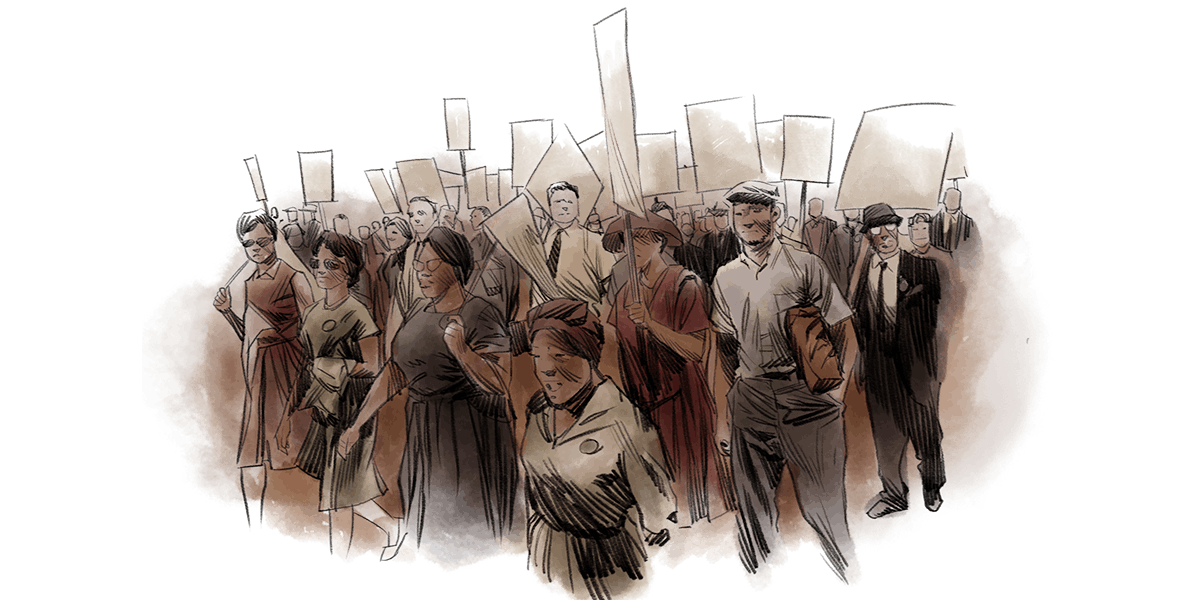 Certain gospel songs, Negro spirituals, and traditional hymns became anthems during the civil rights movement of the 1960s. The words of "Amazing Grace" rang as true during this time as they had during the times of enslavement and emancipation. The melody was adopted and enriched to speak to a new generation, one that embraced the older era but also looked forward to a new beginning. Together with other songs and hymns, "Amazing Grace" accompanied marchers and protesters as they demonstrated across the South. This music became a common language, its sentiments forging bonds of solidarity and steadfastness that cut across every division society, religion, culture, and custom had strictly imposed in the era of segregation.
I never thought of it as a Christian song. It was a song that was associated with civil rights and with the Movement. I don't think that anyone at the time thought of it as a religious song. Like 'Swing Low, Sweet Chariot,' it had developed a life of its own.
Joan Baez, singer-songwriter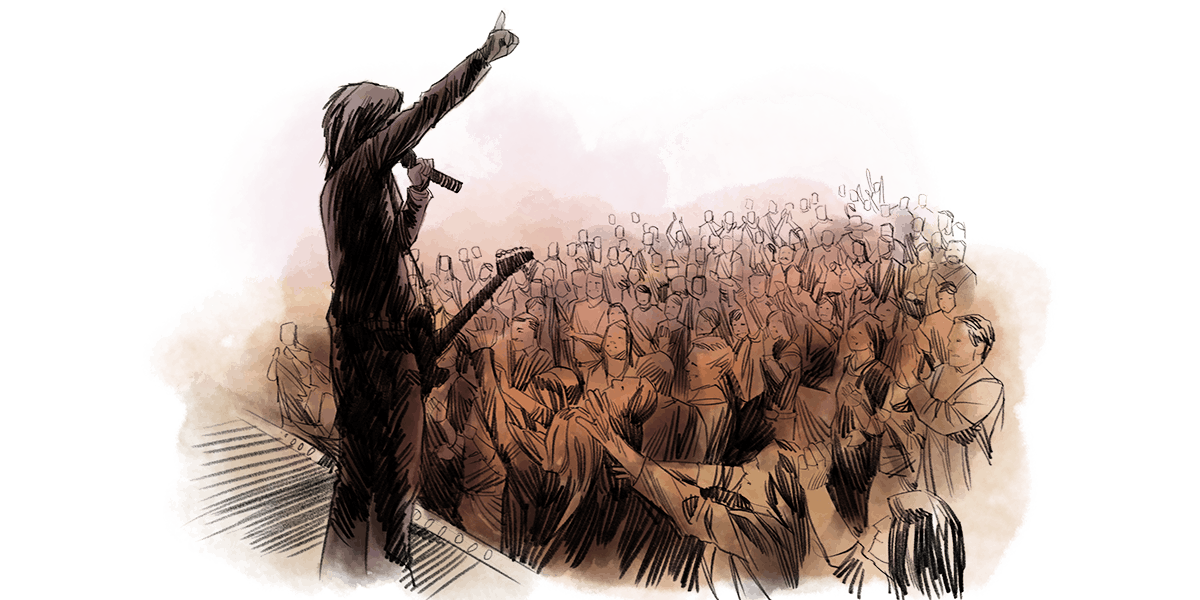 Throughout history, the creation of new music and the adaptation of old have been tools for emotional expression, with each new version breathing fresh life into familiar words. The generation of the 1960s lived a tumultuous life fraught with fear and war.
Then, one day, Judy Collins sang "Amazing Grace" at a concert. It was a song she favored, not for its religious origin or message, but for its unifying power. It was unifying because everyone knew it and they all sang along, joining together as one voice. Most of the crowd didn't know John Newton or the fact that it was a church song, and if they did, it didn't matter.
I didn't even know it was a hymn, but it sounded glorious. It sounded like a humble thank you. Against the crash of rebellious rock, it was sobering. If it was God rock, then God rock was good.
Roy Hollingworth in Melody Maker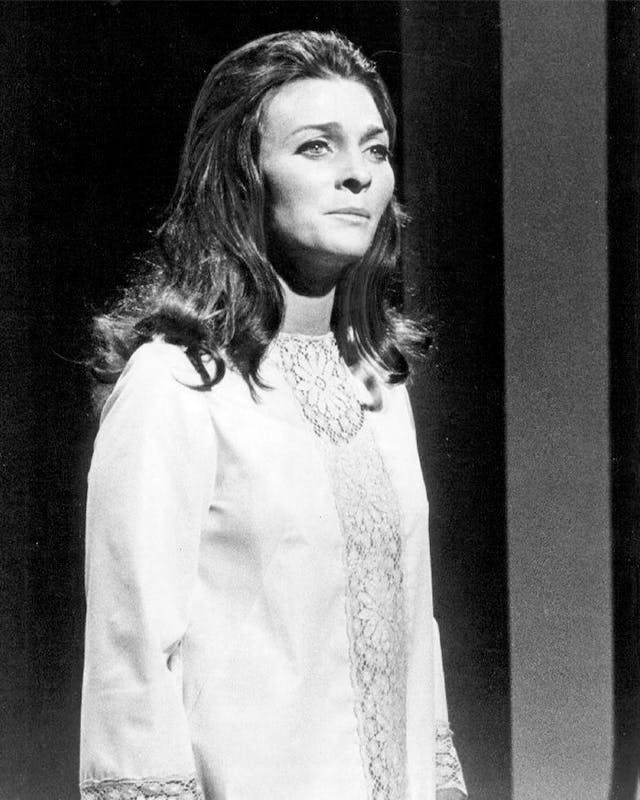 Artifact
Judy Collins, Whales and Nightingales, Elektra Records, 1970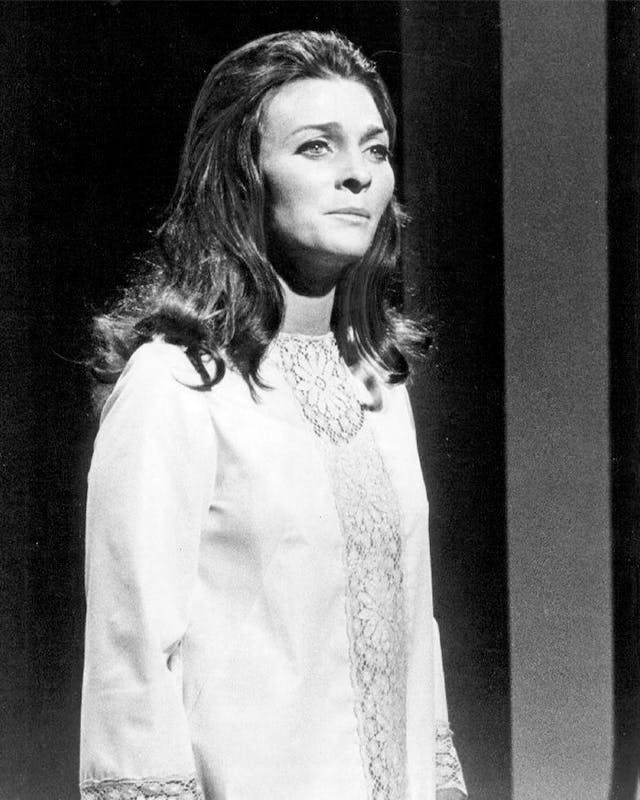 The 1970 release of Judy Collins's single, "Amazing Grace," was a watershed event in the life of the song, and in pop music generally. Now, it was acceptable to bring God back into the conversation, and everyone took notice.
Image credit: CBS Television, Public domain, via Wikimedia Commons.
Collins performing on The Smothers Brothers Comedy Hour, 1968.
"[I used 'Amazing Grace'] to give magical protection—a charm to ward off danger, an incantation to the angels of heaven to descend . . . . I was not sure the magic worked outside the church walls . . . but I wasn't taking any chances.
Judy Collins, singer-songwriter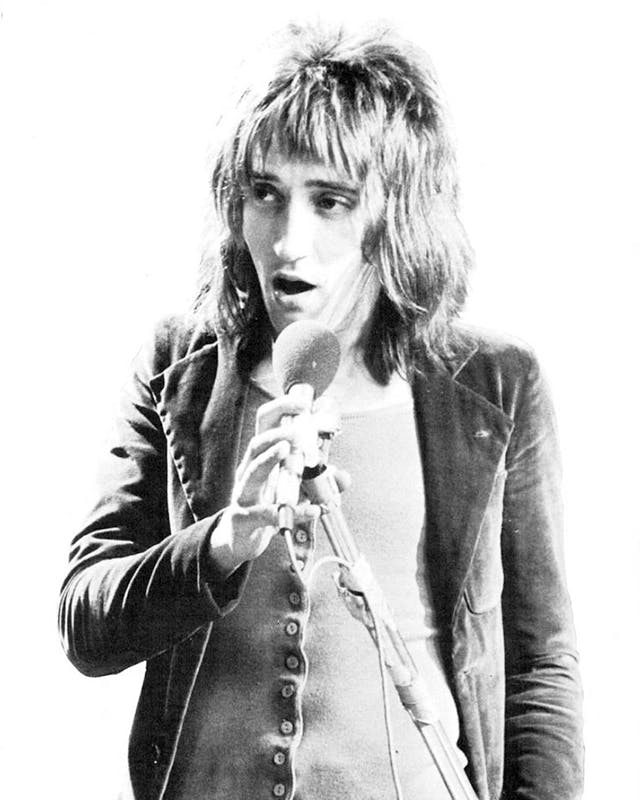 Artifact
Rod Stewart, Every Picture Tells a Story, Mercury Records, 1971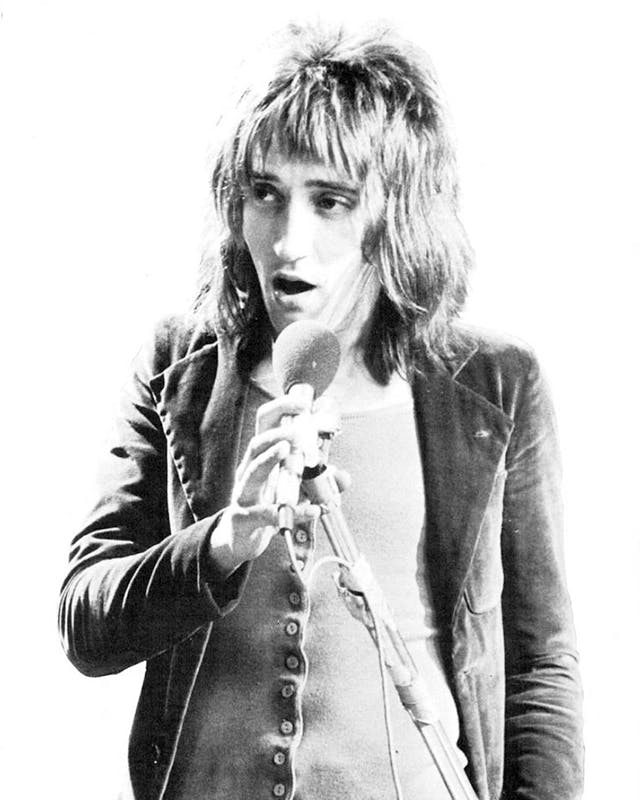 Stewart planned to title his album "Amazing Grace," but Judy Collins beat him to it, so he titled it Every Picture Tells a Story. In Stewart's version, a steel guitar accompanies a single stanza of the song. This simple country-blues version was a new introduction of the song to blues musicians.
Image credit: Mercury Records, Public domain, via Wikimedia Commons.
Stewart in a trade advert for his 1971 album Every Picture Tells A Story.
It only needed a couple of takes to get it right and the reason that Rod only sang one verse is because he only knew one verse! The melody stands on its own. You only need to hear it once and you've got it. Repeated hearings don't make it any better.
Sam Mitchell, musician, 1971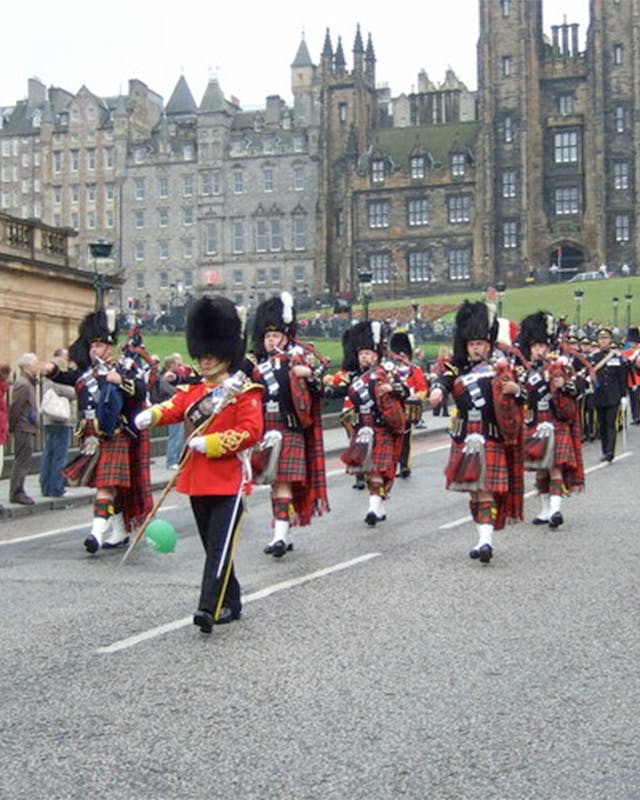 Artifact
Scots Dragoon Guards, Amazing Grace, RCA Camden Stereo Records, 1972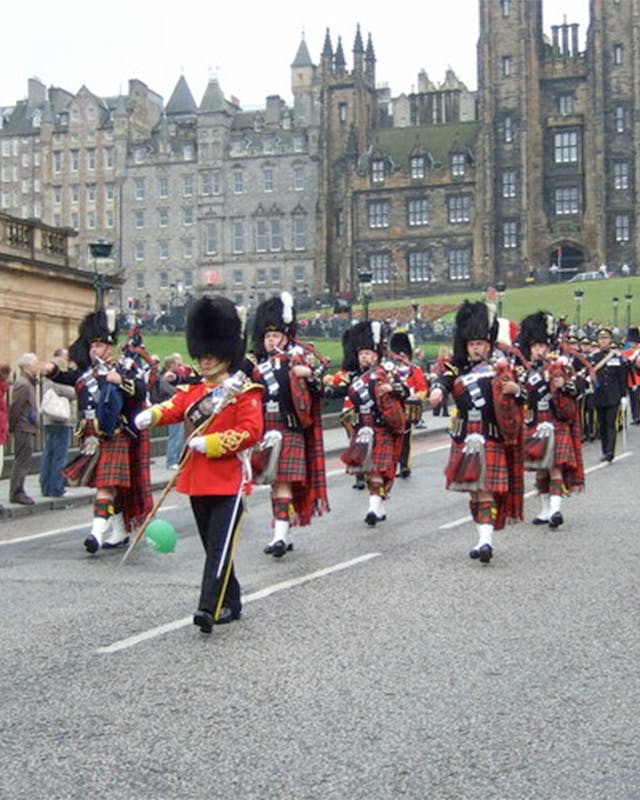 Collins's single caught the attention of Stuart Fairbairn, the bandmaster of the Royal Scots Greys, who adapted it for the bagpipes of the Royal Scots Dragoon. Collins's vocal lead became a pipe solo, and her a cappella choir a concert of pipes and drums. Recording a recent pop hit on the bagpipes had never been done before, and the piping community was confused.
Image credit: geojoc / licensed for reuse under the Creative Commons Attribution-ShareAlike 2.0 license.
The Pipes and Drums on Armed Forces Day.
It was seen as incorrect. . . . I was summoned to see the director of bagpipe music at Edinburgh Castle who said, 'How dare you do this to the bagpipes!' I said, 'I'm sorry. I'm not understanding you.' He said, 'It's sacrilege what you've done. You can't have bagpipes being demeaned in this fashion.' But I said, 'But we've just introduced bagpipes into a million homes in the United Kingdom. Is that a bad idea?'
Mel Jameson, pipe president, 1972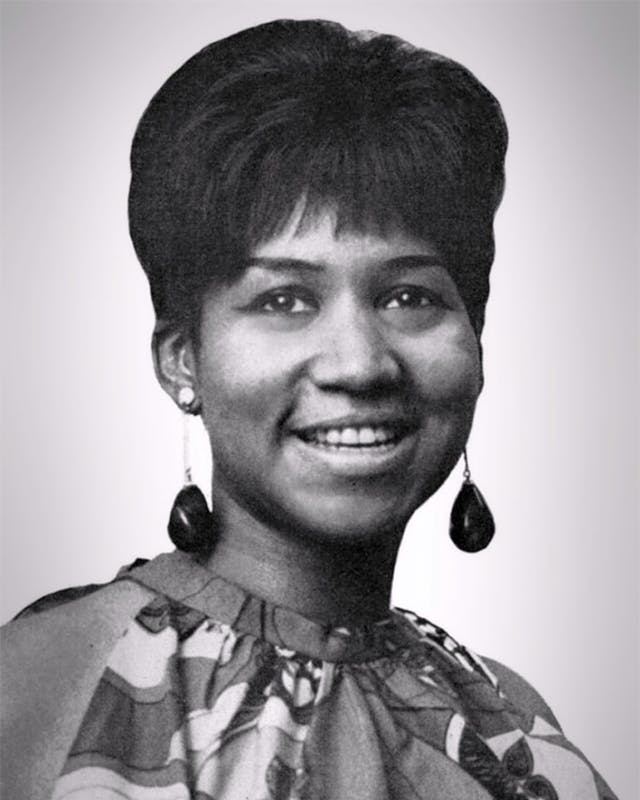 Artifact
Aretha Franklin, Amazing Grace, Atlantic Records, 1972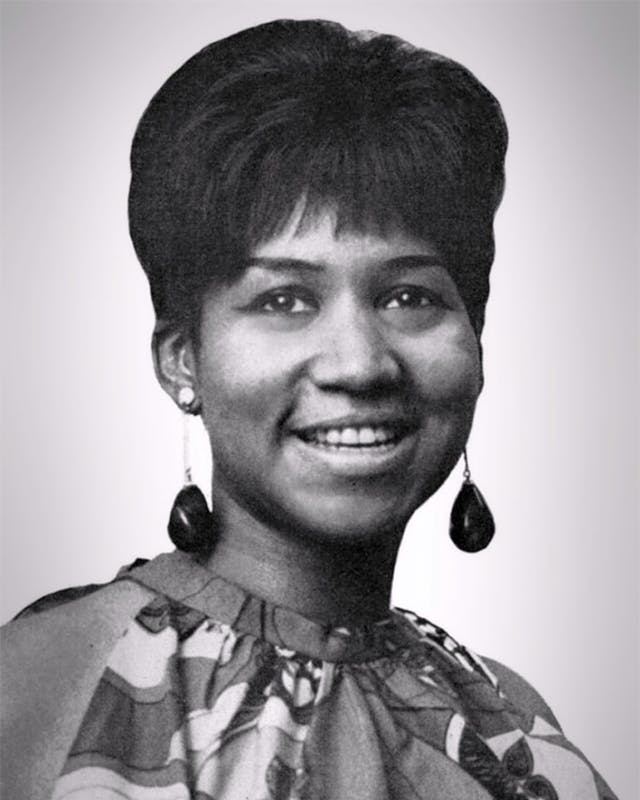 Another influential pop version of "Amazing Grace" was performed by an up-and-coming gospel singer named Aretha Franklin, whose long meter style of the Holiness churches harkened back to Marion Williams and Mahalia Jackson, "where the tune is pulled apart wide enough to let the spirit in."
Image credit: Atlantic Records, CC0, via Wikimedia Commons.
Aretha Franklin in 1967.
Judy Collins covered four stanzas and a repeated first stanza in four minutes and four seconds. Aretha took two stanzas and wrung every meaning out of them over a period of fourteen minutes.
Steve Turner, journalist and biographer
These four recordings helped turn 'Amazing Grace' into a pop standard. They were each aimed at the general pop market where they succeeded but they also appealed to specialized markets. Judy Collins was still thought of as a folksinger and her albums were reviewed on the folk pages of music publications. Aretha was a major figure in soul music, but, especially as she had used James Cleveland, her album sold through gospel outlets. Rod Stewart's audience was young scarf-waving rock fans. The Royal Scots Dragoon Guards would have appealed to an older, more traditional listenership. These vastly different natural fan bases meant that, unusually, the same song was being bought at roughly the same time by elderly conservatives as well as young liberals, white kids from Santa Monica as well as black kids from Harlem.
Steve Turner, journalist and biographer
Unique and influential recordings from the 1960s and 1970s
There are many more renditions of "Amazing Grace" from this time period.
Here's a list to enjoy on your favorite streaming platform.
Roy Rogers & Dale Evans, May 1962
The Soul Stirrers, 1962
The World Vision Korean Orphan Choir with Ralph Carmichael & His Orchestra, 1962
Jean Ritchie & Doc Watson, 1963
Albertina Walker, 1963
Fred & Annie Mae McDowell, 1964
Bernice Reagon, 1965
Johnny Paycheck, 1967
Jim Nabors (Gomer Pyle), September 1968
Judy Collins, December 1970
Rod Stewart, June 1971
Homer Louis Randolph III, 1971
George Beverly Shea, 1971
Aretha Franklin, 1972
Ike & Tina Turner, 1974
Joan Baez, January 1976
Since the 1970s, "Amazing Grace" has continued to be adapted and recorded in nearly every genre of music and has appeared in television shows, movies, advertisements, and commercial products. It still receives enthusiastic participation when an impromptu chorus of it begins at modern music festivals and resonates with everyone on a level far deeper than John Newton could have ever predicted.
Unique and influential recordings from the 1980s to today
There are many more renditions of "Amazing Grace" from this time period.
Here's a list to enjoy on your favorite streaming platform.
Al Green, 1981
Arlo Guthrie and Pete Seeger, 1982
Spider, 1982
Buddy Greene, 1987
The Nitty Gritty Dirt Band, 1989
Fats Domino, November 1993
Diana Ross, 1993
Neville Brothers, 1994
Tori Amos, March 1996
LeAnn Rimes, September 1997
Dropkick Murphys, March 2, 1999
Dolly Parton, 1999
Nnenna Freelon, 2000
The Blind Boys of Alabama, 2001
Shirley Caesar, 2001
Lou Rawls, 2001
Phish, October 29, 2002
The Charlie Daniels Band, 2002
Vince Redhouse, 2002
David Hasselhoff, 2004
Petra, 2005
Soweto Gospel Choir, 2005
Flatfoot 56, June 27, 2006
Alabama, 2006
Doc Holliday, 2006
Ladysmith Black Mambazo, 2006
Chris Tomlin, 2006
Celtic Woman, January 26, 2010
Andrea Bocelli, November 15, 2011
Alan Jackson, 2013
Grace Choi, 2014
Carrie Underwood, 2014